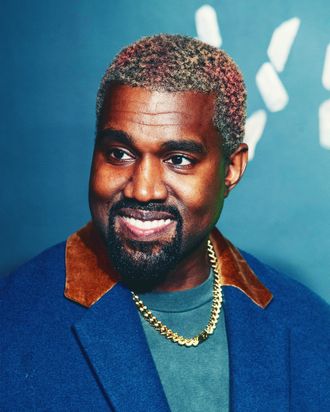 Kanye West.
Photo: www.RoyRochlin.com/Getty Images
It's hard to imagine the day-to-day life of Kanye West. Whether he's staging a train wreck fashion show on Roosevelt Island, starting a church with merch, or meeting with Donald Trump, West never does quite what anyone else would do.
In a new profile in Forbes, writer Zack O'Malley Greenburg looks at how the rapper/designer built a billion-dollar sneaker empire. But while this is allegedly a business story, it's filled with tidbits that could only be a side note in a feature about Kanye West. Let's talk about them now!
Kanye redesigned the logo for Kim's shapewear company.
A key part of the Kim Kardashian West and Kanye West marriage seems to be sharing product sketches with each other. Kardashian West apparently "seeks out her husband's opinion on all of her projects." When Kim showed her husband the logo and packing for her shapewear line, previously known as Kimono, West was not impressed, and took it upon himself to redesign it (though he obviously didn't change the name.)
Kim and Kanye have "bedtime true-crime story meetings."
They're both busy! But in their downtime, they trade ideas while Kardashian West watches true-crime shows. West, ever the perfectionist, shows her sketches in lieu of watching.
He's designing low-income housing inspired by Star Wars.
What must West's mind palace be like? He's currently working on designing spaceshiplike prefabricated buildings that can be used as low-income housing, perhaps, "sunk into the ground with light filtering in through the top." They're inspired by Luke Skywalker's hometown, and share Yeezy's brutalist aesthetic.
He's incredibly high-maintenance about his floors.
When O'Malley Greenburg walked into Chez West, he was asked to put on protective cloth booties. If scuffed, the floors in West's home can only be attended to by a crew flown in from Europe. Considering he has four young children, this seems like a bad call. Interestingly, in the Vogue 73 Questions video with Kim, nobody in their family is wearing shoes (Saint is wearing socks).
Lamborghinis are a constant source of inspiration for him.
When West was a kid, his father would take him to car shows, and he fell for the Lamborghini Countach. Ergo, "There's a little bit of Lamborghini in everything I do," West said.
Don't ask him how many shoes he's designed.
You may have seen a photo going around of West trapped inside a web of Yeezys. He set up the concentric circles of every shoe he's designed for the interview, but when O'Malley Greenburg asked how many shoes were in the exhibition (a fair question for a journalist to ask), West was taken aback.
There are about 1,000 pairs laid across the lot, it seems, but when I ask West for the exact tally, he seems almost offended at the notion of reducing his creations to numerals. "You can't calculate love," he explains. "If you get a surprise cake from your grandmother, and you didn't know she was in town, do you start asking her about the batter and specifically the frosting?" 




Grandmother?




"These things are made to bring incalculable joy," he continues. "So to ask me to somehow translate this to numbers is to ask your grandmother exactly what the recipe of the cake was."
Looking forward to the future, where homeless people live in spaceships sunk into the ground and Kim Kardashian West comes out as a CSI: Miami fan.