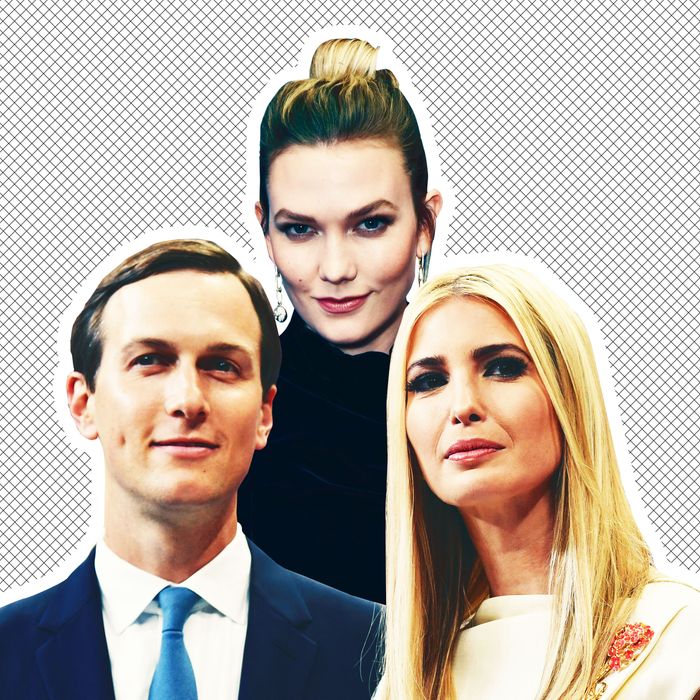 Karlie Kloss, the 26-year-old model and entrepreneur who is extremely married to Jared Kushner's brother Joshua, reiterated in an interview recently that having a pair of haunted dolls for in-laws can be a challenge.
In an interview published in British Vogue on Monday, Kloss, a Democrat, was asked to comment on being related by choice to Jared and Ivanka. Her response was:
"It's been hard. But I choose to focus on the values that I share with my husband, and those are the same liberal values that I was raised with and that have guided me throughout my life."
Kloss has responded to versions of this question before, more or less with the same liberal tact. She told Vogue last year, "I've chosen to be with the man I love despite the complications. It's frustrating, to be honest, that the spotlight is always shifted away from my career toward my relationship. I don't think the same happens in conversations with men."
While Karlie has little in the way of praise or criticism for the Trump family — which presides over a White House that's sanctioned immense harm, especially to women and children — Ivanka appears to approve of and support her sister-in-law. In March, the First Daughter posted a video of herself summoning excitement for the premier of Project Runway, which Kloss hosts.
But Kloss did take a stand in the Vogue interview, questioning her tendency to wear lingerie in public. "The reason I decided to stop working with Victoria's Secret was I didn't feel it was an image that was truly reflective of who I am and the kind of message I want to send to young women around the world about what it means to be beautiful." She continued, "I think that was a pivotal moment in me stepping into my power as a feminist, being able to make my own choices and my own narrative, whether through the companies I choose to work with, or through the image I put out to the world."
Kloss implied her decision was inspired by enrolling at New York University's Gallatin School in 2015 to study feminist theory. I wonder if she read Ivanka's book.