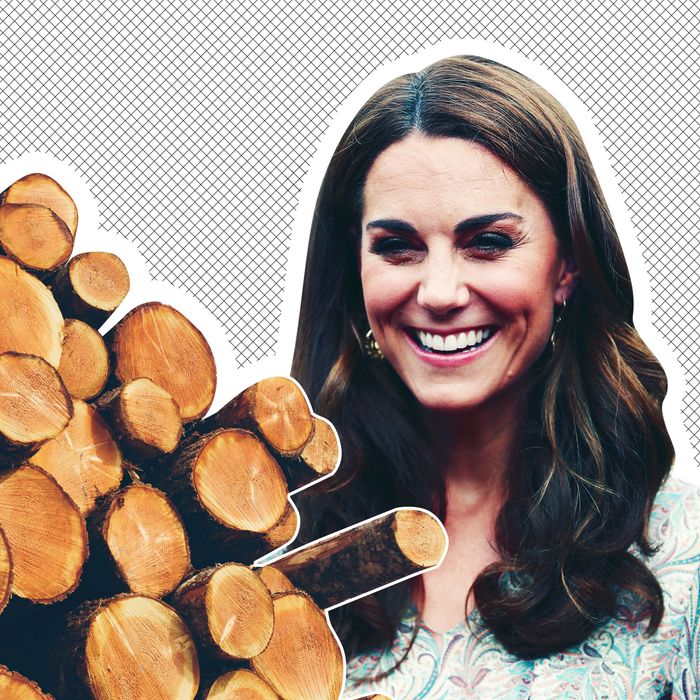 Imperfect logs with log designer.
Photo: Shutterstock, Getty Images
Do you love nature, but hate how natural it is? Good news: Kate Middleton, the Duchess of Sussex and friend to robots, has designed a log — a special one that, according to the Daily Mail, allows one to watch the clouds float by from a perfect angle, without having to deal with the regular hassles of cloud-watching, like imperfect angles, grass stains, bits of bark sticking into your back, and the frustration of knowing that you're resting on a piece of wood designed not by a royal (cool), but by The Creator themselves (lame).
The new, superior log, which Kate technically co-designed with landscape architects Adam White and Andree Davies, and which you can see here, was unveiled at the Hampton Court Palace Garden Festival last week. It looks like a regular log, but with an ice-cream scoop taken out of the middle for your butt.
"The idea is that it makes you sit back and look at the clouds. Instead of looking at a screen, you have got to use your imagination to think what you can see in the sky. It is something that the Duchess said she really enjoyed doing," White told the Daily Mail, even though it seems like you could also comfortably scroll through Instagram on the log.
Back in May, Kate also helped design a "Back to Nature" garden at the Chelsea Flower Show in London. The garden included a tree house, a rope swing, and a "blue and green plant scheme," but no specially designed logs. Maybe someone complained?