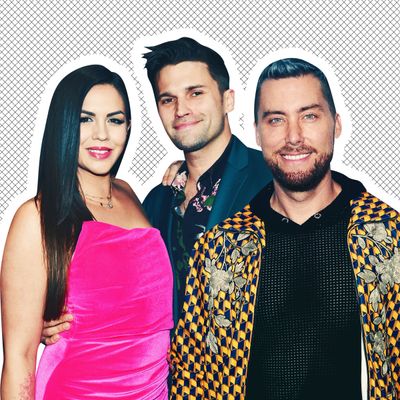 Katie Maloney and Tom Schwartz. Also Lance Bass.
Photo: Getty Images
An upsetting piece of reality-television/legal news: The second of three dream weddings to have been filmed for Vanderpump Rules, the 2017 nuptials of Tom Schwartz and Katie Maloney, might not actually have been official, according to close personal friend Lance Bass.
Bass was appearing on a podcast called Reality Bytes on July 12 to discuss the latest Vanderpump wedding, between Jax Taylor (née Jason Cauchi) and Brittany Cartwright, which he just officiated in Kentucky. Through show matriarch Lisa Vanderpump, the former 'N Sync member has become a kind of moonlighting presence on the show; he recently partnered with Taylor to launch a forthcoming "mixers line for really bad bartenders," named for the former model and current beer-cheese entrepreneur, called "Just Add X."
During his podcast appearance, Bass delivered the shocking claim that "we just found out Tom and Katie are not married. They did not send in their materials right, so, they are not married." Furthermore, this upsetting development "might be a little story line next season." Whoops!
Is this true? Could a man like Schwartz, who once delivered his 5 percent investment in the restaurant he partially owns in cash, in a suitcase, to have "a James Bond moment," after an original check bounced, have made a clerical error of this magnitude?
A "source close to the couple" says, of course not, how dare you? "Tom is very by the books with everything he does. He is very on it about everything," this person told Hollywood Life. "He and Katie consider themselves happily married and are surprised by this. If he's not legally married, he'd be as surprised as everyone else as they made sure their paperwork was all there."
While it doesn't seem wise for the couple to start beef with Lance Bass, perhaps they're saving the news for the show, which some experts fear will need help as more of the cast settles into the married-while-influencing lifestyle. We reached out to Bravo for a comment and will update this developing story.