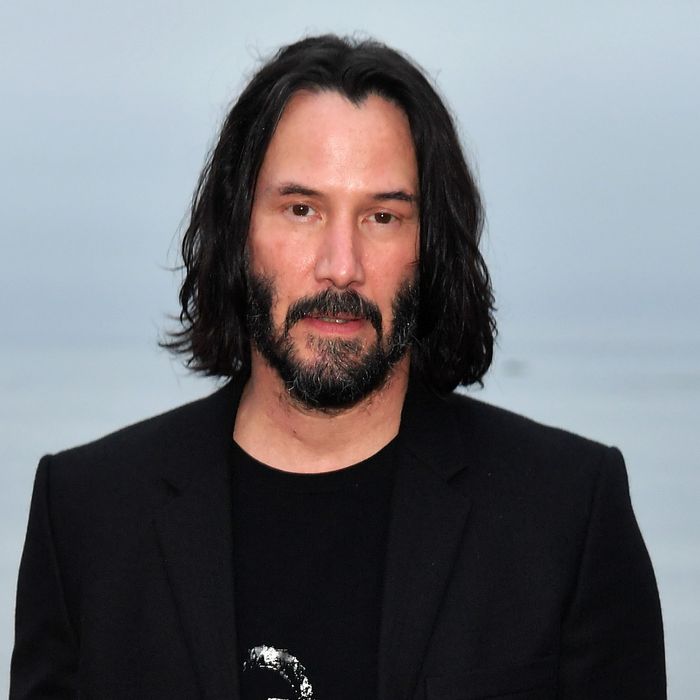 Photo: Neilson Barnard/Getty Images
The Keanussance is showing no sign of slowing down, as our beloved internet boyfriend, Keanu Reeves, continues to be a balm to our souls in this weary world.
While filming Bill & Ted Face the Music in Slidell, Louisiana, Reeves and writer-producer Ed Solomon noticed a handmade sign in someone's yard. It read, "You're breathtaking," referencing a moment during Reeves's appearance at a recent video-game conference that went viral. Solomon tweeted that Reeves jumped out of a car and wrote on it, "Stacey, you're breathtaking!" and signed his autograph. It's the little things that make us love you, Keanu.
Stacey Hunt tweeted that her son came up with the idea to make the sign after learning that the movie was filming down the street from their house. Reeves (sans beard) also took a photo with the family. Hunt and her sons followed up with a second sign that said, "Thank you Keanu."
Reeves's "You're breathtaking" meme originates from an E3 video-game conference that happened in L.A. on June 9. Reeves made a surprise appearance to announce the release date of a game he's in called Cyberpunk 2077. After an audience member yelled to Reeves that he was "breathtaking," he returned the sentiment.
"The fact that he was nice enough to take the time to talk to us and take pictures — everyone says he's a nice guy. And it's true," Hunt told nola.com
Pardon me while I sit down for my annual summer viewing of Keanu in Paula Abdul's 1991 music video for "Rush Rush." Highly recommend playing his "milk-bottle scene" on repeat to help deal with this heat wave.