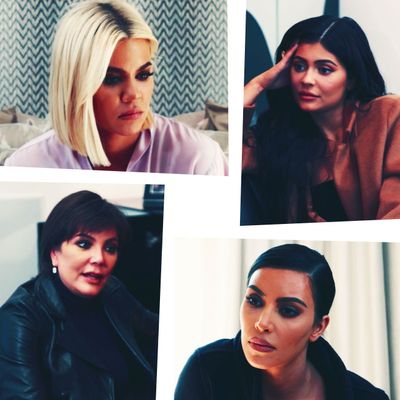 It's officially the end of Kardashian season, and we couldn't be happier. Not because we won't miss spending an hour of overly produced quality time with the most humble people in Hollywood, but because we're finally seeing the havoc wreaked on the family by Tristan Thompson's wayward dick.
This week's only plot was Khloé Kardashian's life falling apart. #LEGGO
Scene 3:
Picking up where we left off last week, Kourtney, Kim and Everybody's Favorite Best Friend, Malika, have taken Khloé away for a fun-filled weekend in Palm Springs. On their way to the desert, Kourtney innocently puts on her break-up playlist, which includes Brandy's "Who Is She 2 U." Kimberly and Malika sing along in the backseat, implying that the callous lyrics ("Who is she to you/Don't lie to me … My eyes can see/Something's going … ") are meant for one Jordyn Woods — Tristan's alleged mistress. As Kim and Malika create this viral moment, Kourtney and Khloé giggle in the front seat. This scene was filmed on February 21, 2019.
Scene 4:
While the Kardashian sisters are miles away tending to Khloé's soul, Kylie Jenner has a deep conversation with Kris Jenner, propped up on leather bean bags next to a roaring fire. Kylie tells Kris that Jordyn has been staying with her mom since the incident, and the two haven't spoken. It's especially hard for Kylie because Jordyn is the one person that knows her best in the world. As for the Jordyn x Kylie Cosmetics sale on "Jordy" Lip Kits, Kylie explains that it was never her intention to embarrass Jordyn, and that once she learned of the ill-timed discount, she pulled the lip kits from the sale. Kylie also says that Jordyn needs to make things right with Khloé before she will mend anything with Jordyn. This scene was filmed on or around February 21, 2019. 
Scene 5:
At Kris Jenner's Palm Springs estate, Khloé, EFBF Malika, Kim, and Kourtney are still riled up about the scandal. Khloé plays a video message from Sia in which the singer/songwriter tearfully tells her how loved and valued she is and not to let this get her down. Then, Kim gives beauty mogul Kimora Lee Simmons a call. Kimora is adamant that the family needs to get off their asses and fight fire with fire to defend their honor against anyone else thinking about sleeping with their men. Even if she's not romantically involved with Tristan, Khloé needs him to know his place as the father of her child. If there's someone to take advice from about your relationship with your ex/child's father, Kimora Lee Simmons is the one.
Khloé is now angry and exclaims that it's time for "Khlo$" to come back. She's ready to get mad and go against the Kris Jenner/KKW PR model. Khloé tells Kim that she's done listening to the old advice from Kim and Kris to tone down her public rage out of fear of ruining the family name. Kim is okay with this, but just to make sure, they FaceTime Kris. Kourtney accuses the whole family of looking like "pussies," and Khloé tells Kris that someone could potentially be after her man, too. Kris doesn't say much, so the gals give Kanye West a call. Kanye suggests that Khloé tweet 200 times and see what happens. After many drinks, Kim and Kourtney go get a massage. Khloé and EFBF, Malika, hang back to video chat with Tristan's Malika/BFF, Savas. Savas tells Khloé that Tristan is super emotional but he's now saying that all he and Jordyn did was peck each other on the cheek. Confused about why both Jordyn and Tristan are changing their stories, Kim screams the infamous "LIAR!!!!!" It's not quite as satisfying as expected, since it's accompanied by drunken laughter rather than pure rage, but still, it's fun to watch. It's more chilling when Khloé calls Tristan and Jordyn "fat fucking assholes." Quite the insult from the host of the "inspirational" Revenge Body program on E! and CEO of the size-inclusive denim brand Good American. This scene was filmed on February 21, 2019.
Scene 7:
The next morning, Khloé is still upset. In the wake of the scandal, Khloé's been pissed at Tristan not only for cheating but also for calling and texting her incessantly. Khloé tells Kim that Tristan keeps telling her how much he loves her, and how he's finally realized how his mistakes have affected her. While talking to Khloé, Kim gets a call from Kylie. Kylie tells Kim that she didn't appreciate the Insta Stories of Kim and EFBF Malika singing and essentially "bullying" Jordyn. Kylie tells her sister that sort of behavior is below them. Kylie also says that Jordyn hit her up the night before to collect some things, and the look in her eyes showed her how hurt Jordyn's been over the fallout from the scandal. This doesn't excuse what she did, but Kylie thinks the family needs to lay off publicly shaming Jordyn. Kim tearfully agrees, admitting that she realized she made a mistake after posting the video. She promises to be better moving forward. This scene was filmed on February 22, 2019.
Scene 10:
Once everyone is back from Palm Springs, the family gathers at Kylie's to discuss Jordyn's announcement that she will appear on Red Table Talk to speak with Jada Pinkett-Smith about the scandal. The family is livid. Khloé can't believe that Kris wasn't able to shut this down, since Jada and the Pinkett-Smith's have been family friends for decades. Khloé and Kylie are flabbergasted that Jordyn would go public before talking to them. Kylie says she can't understand any of Jordyn's motives and is angrier than ever. Scott brings up the very real possibility that Jordyn is terrified of the family. He should know, considering he's been disowned by the Kardashians on multiple occasions. Khloé says that Jordyn should have been more scared of her wrath before she made the decision to get physical in any way with Tristan. According to Khloé, she's been far too nice if the people around her feel comfortable enough to get away with something like this. Later, Khloé tells the table that Tristan loves her but doesn't respect her. Someone could have told her that in April 2018, but … This scene was filmed on February 26, 2019.
Scene 12:
In a dramatic voice-over, Kim explains that Khloé disagreed with Jordyn's truth on Red Table Talk, where she claimed that Tristan came on to her after his relationship with Khloé had ended. Then, Kim comes to check in on Khloé in "real time." Khloé is sullen in bed as she reels from Jordyn's interview and the backlash to her tweets blaming Jordyn for the demise of her relationship with Tristan. Through tears, Khloé tells Kim that she had no idea the world would take written and very clear words so seriously. As a refresher, Khloé's initial tweets read: "Why are you lying @jordynwoods?? If you're going to try and save yourself by going public, INSTEAD OF CALLING ME PRIVATELY TO APOLOGIZE FIRST, at least be HONEST about your story. BTW, You ARE the reason my family broke up!" And, "Tristan is equally to blame but Tristan is the father of my child. Regardless of what he does to me I won't do that to my daughter. He has been addressing this situation PRIVATELY. If Tristan were to lie publicly about what conspired, then yes I would address him publicly as well."
Kim apologizes for getting Khloé worked up in Palm Springs, since that energy is probably why she felt the need to tweet. Khloé remains sad and continues to wonder why her speaking her truth always ends badly. This scene was filmed on or around March 2, 2019.
What a season, Dolls! Though we were tricked into watching the family's tomfoolery for months leading up to the final two episodes, we made it! Join me next time for another Keeping Up With Say No to Bullying. #LIAR!!!!!