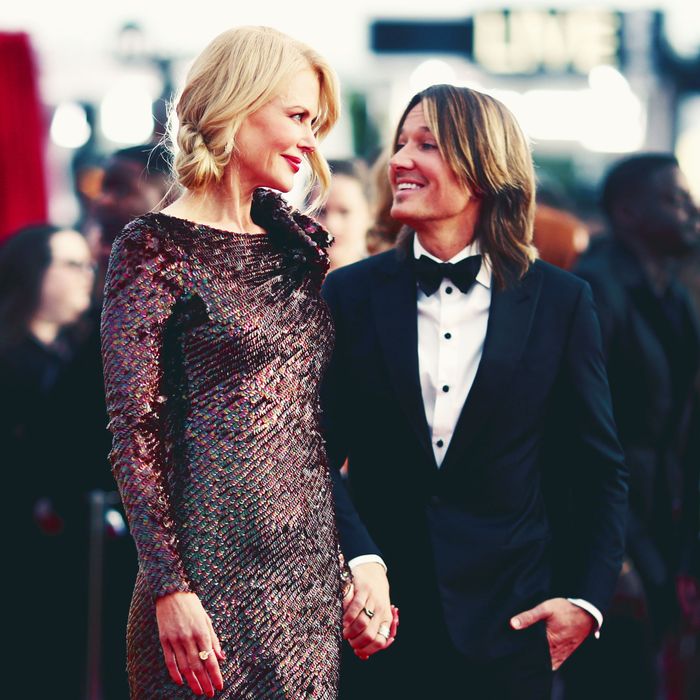 Photo: Christopher Polk/Getty Images
If the lie doesn't get us all, Keith Urban's T-shirt will.
Like many of you, I continue to watch Big Little Lies (though inching my way toward the finale) and therefore continue to be disappointed in the husbands the show proffers. Not a wife guy among them! Madeline's (Reese Witherspoon) husband Ed (Adam Scott) might have qualified in season one and was indeed my favorite dude character–slash Elvis impersonator, but season two's Bad Ed has thus far been squandering my goodwill on tiresome moping and bickering. Meanwhile, Celeste (Nicole Kidman) is, according to her therapist, still married to the ghost of her deceased husband, an unsparingly cruel man to begin with.
But in the real world we can breathe a sigh of relief, for Kidman has found herself a wife guy in country-music star Keith Urban. On Sunday night, just before the season finale premiered on HBO, Kidman posted this picture of her husband dressed to satisfy the height of marriage chic in a long-sleeved black shirt with "Celeste & Jane & Bonnie & Renata & Madeline" print, these of course being the names of the protagonists on his wife's show. As a special feature, the n in "Madeline" is conspicuously dropped, leaving only the "lie." Because Keith is a husband, the shirt is layered over another shirt.
Might Keith be pioneering casual husband fashion? I could see this catching on: It's cheaply made, for a married man (who otherwise doesn't know what to wear), and 100 percent sustainable (for the marriage).