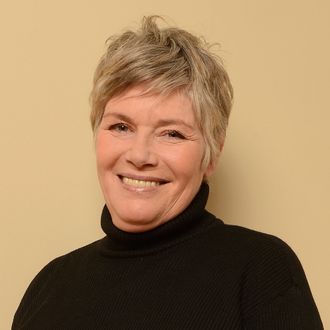 Photo: Larry Busacca/Getty Images
In case you were wondering if Top Gun: Maverick features any kind of cameo from Kelly McGillis's Charlie Blackwood (she was an astrophysicist and Top Gun instructor, so it stands to reason she'd still run in the same circles), we've got some bad news. In a new interview with Entertainment Tonight, McGillis says she was not asked to be a part of the upcoming sequel, and she's fairly certain she can guess why.
"I'm old and I'm fat and I look age-appropriate for what my age is, and that is not what that whole scene is about," the Top Gun actress, who played the film's romantic lead across from Tom Cruise, told ET (You can hear audio of her interview in the video on this page.) "I'd much rather feel absolutely secure in my skin and who and what I am at my age, as opposed to placing a value on all that other stuff." When asked if she's planning to see the film, McGillis didn't seem too interested either way. "I'm not racing to the theater, and I'm not racing away from the theater to see it," she said. "It's just not on my little list of things that I would like to get done." And before you ask: no, she hasn't seen the trailer, either.