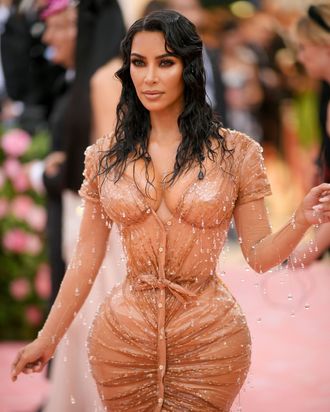 Kim Kardashian West.
Photo: Neilson Barnard/Getty Images
Kim Kardashian West experienced new heights of discomfort while wearing a corset to this year's Met Gala. This past May, the reality star wore a custom Thierry Mugler silicone and silk dress that appeared to glisten and drip with water droplets. Underneath, she wore a corset that was so tight she could not properly sit down.
"I have never felt pain like that in my life," Kardashian told WSJ magazine in a recent interview. She also said that the corset left indentations on her back and stomach. This isn't the first time she's discussed how difficult the garment was to wear — in an Instagram post last May, she mentioned that she had to take "corset breathing lessons" from Mister Pearl, the famous corset-maker who crafted it for her. And in a Vogue video released after the gala, she went through the arduous process of trying it on. "Okay so Anna, if I don't sit down for dinner, now you know why," she said. "I cannot hardly sit. I can only, like, half-sit." Like they say, beauty is pain. Is camp pain, though?
It is worth noting the level of pain Kardashian West must have experienced here: she has experienced childbirth, twice. And she wore, lest we forget, those incredibly uncomfortable-looking clear strappy heels while she was pregnant in 2013!
Kardashian West has defied logic before, and endured discomfort the name of the perfect look. This time, it seems, she has completed a true feat of stoicism.