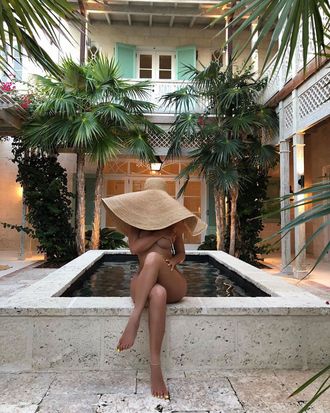 Photo: @kyliejenner/Instagram
A straw hat tends to signal to the viewer that the wearer is having a much better summer than everyone else; the accessory has a ubiquitous presence on Instagram for this reason. But Kylie Jenner kicked it up a notch in a recent Instagram post, in which she wears a straw hat and a straw hat only.
However, Amanda Ensing — a beauty influencer and Youtube vlogger — has now accused Kylie Jenner of copying her pose. Her evidence: While vacationing in Mexico this past June, Ensing had posted a close-up shot wearing nothing but a large straw hat, an anklet, and a bracelet. She is posed sitting on the floor, legs crossed, and her face is not visible.
Yesterday, while on a trip in Turks and Caicos to celebrate new products for her skin-care line, Kylie, too, posed in a huge straw hat. (It's from Jacquemus, and it's $480, and Emily Ratajkowski has the same one.) The photo shows her sitting on the edge of a pool of water with her legs dramatically crossed. Like Ensing, the hat obscures her face and she is entirely naked. While the photos are similar in theory, they are not identical. Sisters, but not twins.
Ensing, who has 1.4 million Instagram followers to Kylie's 140 million, commented that the photo looked "awfully familiar." Kylie responded with an icy burn: "ur not on my mood board." She added that she was inspired to do the pose by Pinterest.
A quick search on Pinterest does in fact yield tons of naked/obscured-face straw-hat photos. In addition, Kim Zolciak-Biermann posted a similar photo last March, before either Jenner or Ensing had posted. This has spurred accusations from commenters that both of them are actually copycats. Truly a mounting scandal.
Either way, it's hard to have a monopoly on big hats, and/or being naked on Instagram. The platform lends itself to such in the summertime. It's a well documented fact that influencers love hats, and love being naked!