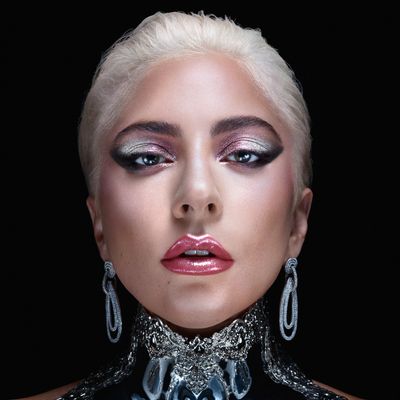 Lady Gaga wearing Lady Gaga's new makeup line.
Photo: Courtesy of Haus Laboratories
Earlier this week, the world gained yet another celebrity beauty line in the form of Lady Gaga's Haus Laboratories. Back then, we only knew the name (Haus), the slogan ("Our Haus. Your Rules."), where it would live (Amazon) and the focus (makeup and color.) Now we have multiple faces, product shots, and swatches to look at, just in time to pre-order it all on Amazon Prime Day before the line officially launches in September.
Let's break it down. There are six HAUS collections ($49) that each include a shimmery liquid powder called Glam Attack, a creamy lip liner called RIP, and a high-shine lip gloss called Le Riot. All six Hauses have names and what seems to be distinctive personalities, just like the Hogwarts ones. There's HAUS of Chained Ballerina, HAUS of Goddess, HAUS of Rose B*tch (personal favorite already), HAUS of Rockstar, HAUS of Dynasty, and HAUS of Metal Head, which you can see modeled by Gaga and swiped on a variety of arms below.
There are also nine (a Fellowship of the Ring, if you will) limited-time duo sets that will also be available for preorder on Prime Day — that is, Monday, July 15 — while supplies last. There are three Glam Attack duos (named Speed Queen, Give 'Em Heaven, Downtown Punk) at $36, three RIP duos (named Floor It, Royalty, Slay Me) for $26, and three Le Riot duos (named Laced, Seductress, Hypocrite) for $32.
Take the weekend to sort yourself into a Haus or two, and don't be afraid to ask Alexa for some help; you only have two days to decide which combos to drop in your cart so you can paint half of your head come September.
If you buy something through our links, New York may earn an affiliate commission.