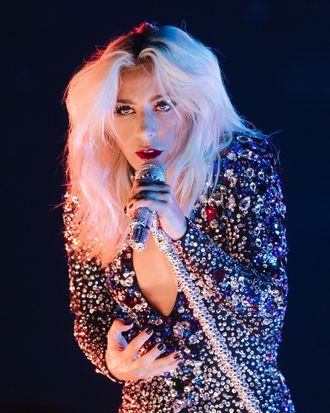 Lady Gaga.
Photo: Emma McIntyre/Getty Images
"The last thing the world needs is another beauty brand." Those are the first ten words we hear Lady Gaga voice-over in a new promo video entitled "HAUS LABORATORIES | OUR HAUS. YOUR RULES." But before you can even begin to Meryl applaud that statement, she quickly chases it with a "Too bad!" Fitting, considering the video is for her new beauty brand, Haus Laboratories.
Yes, Lady Gaga's beauty line is really real, and according to Business of Fashion, it will officially launch this September with "multi-use colour items for cheeks, eyes and lips in six shade families and kits containing all three products priced at a relatively affordable $49." How is this different from other singer-backed beauty brands like Rihanna's Fenty Beauty or Justin's hypothetical Bieber Beauty? Well, for one, Haus Laboratories will be the first major beauty brand to launch exclusively on Amazon, which means Haus will simultaneously hit nine countries on three continents with glorious one and two-day shipping.
In terms of overall ethos though, Haus Laboratories has inclusive, authentic, self-discovering Mother Monster as its literal mother, which means the brand, as BoF puts it, "is set up to be the opposite of the filtered, Facetuned brand of 'authenticity' spawned by the Instagram era." Haus will also strictly stick with color cosmetics (for now); not skin care, hair care, or alcohol, like the Kylie Empire for example. "Color is completely transformative — it's powerful, it's beautiful, and it's how I found my voice with makeup," Gaga explained to the publication. "I discovered myself, but also other people discovered me, for me, through the way that I was expressing myself."
We also learn from the interview that Gaga has assembled a team including tech minds with ties to Farmville and Words With Friends, leading me to believe whatever Haus Laboratories is cooking up may consume entire lives. But Gaga added, reassuringly: "I'm sure as hell not going to put out a beauty brand that is going to drive insecurity and fear into people. This is about liberation."
You can start pre-ordering all your Haus stuff here on July 15, and watch the full promo below in the meantime.