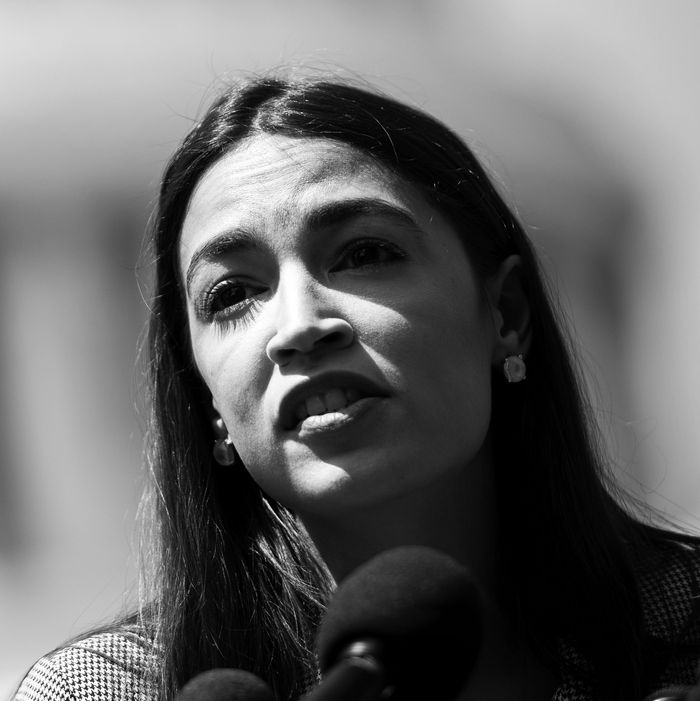 Photo: SAUL LOEB/AFP/Getty Images
A congressional delegation visited two Border Patrol stations in Texas on Monday, and described the conditions where migrants are being held as "horrifying," "inhumane," and a "humanitarian crisis."
After visiting the El Paso Border Patrol station, New York representative Alexandria Ocasio-Cortez tweeted that the women being detained told her that Border Patrol agents kept them in cells with no running water and told them to drink out of the toilets. She said that another detained woman described her treatment at the hands of agents as "psychological warfare."
"This has been horrifying so far. It is hard to understate the enormity of the problem," wrote the freshman congresswoman, who has previously compared migrant detention centers to concentration camps. "We're talking systemic cruelty w/ a dehumanizing culture that treats them like animals."
She also noted that this was the Border Patrol agents "on their GOOD behavior in front of members of Congress."
Another representative on the trip, Judy Chu of California, confirmed AOC's account in her own video, adding that one woman detained in the El Paso facility has epilepsy, but is not getting the medication she needs. "The humanitarian crisis is the one our government is creating," Chu said.
A picture and video shared by Texas representative Joaquin Castro show a group of women the delegation spoke with at the El Paso Border station. Some of them had been held at the station for over 50 days, and some hadn't been allowed to shower for up to 15 days. Castro also held up a paper to the camera with the women's names.
"We were told we were not allowed to speak to the detainees, but very quickly that broke down," Pennsylvania representative Madeleine Dean told ABC News. She noted that the women they spoke with had just recently been issued the blue sleeping bags seen in Representative Castro's photograph, and that the detainees told them that they had just been moved into the room the delegation saw, which the detainees called "the refrigerator" on the day of the congressional visit.
The visit, which was organized by House Democrats and the Congressional Hispanic Caucus, came hours after ProPublica pushed a story about a secret Facebook group for former and current Border Patrol agents, in which members joked about the deaths of migrants, and posted sexist and threatening comments and memes about AOC, including pictures that were edited to show her performing oral sex.
"9,500 CBP officers sharing memes about dead migrants and discussing violence and sexual misconduct towards members of Congress," AOC tweeted shortly before her first facility tour. "How on earth can CBP's culture be trusted to care for refugees humanely?"
According to Chris Sommerfeldt at the New York Daily News, this disrespect was evident during Monday's visit, when one officer at the El Paso facility "mockingly tried to take a selfie" with AOC.
Other lawmakers on the tour also said that they were met with "hostility from the guards" and that officials were "very resistant to Congressional oversight."
But "this is nothing compared to their treatment of the people being held," tweeted Representative Dean. "The detainees are constantly abused and verbally harassed with no cause. Deprived physically and dehumanized mentally — everyday."
Massachusetts representative Joe Kennedy III also described the atmosphere on their tour as "contentious and uncooperative."
"What's haunting is that the women I met with today told me in no uncertain terms that they would experience retribution for telling us what they shared," AOC tweeted after leaving the Border Patrol facility in Clint. "They all began sobbing — out of fear of being punished, out of sickness, out of desperation, lack of sleep, trauma, despair."
This post has been updated with additional information.