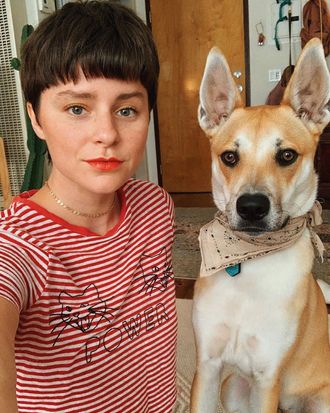 Photo: @leefromamerica/Instagram
Fans of Lee Tilghman, the smoothie-bowl queen of Instagram, have been waiting for months for her to return to the platform. She announced she was going on a hiatus on February 10, and lo and behold, today she finally came back. But something has changed: Lee has a bowl cut. (At least, it appears to be a bowl cut from the photo — maybe it's a more elaborate bangs situation?) She also said she would be "using her platform in a different way." Oh, how much can change in five months.
We've all known — or been — the person who runs to the hairdresser following a breakup or breakdown. And of course the most common haircut associated with emotional turmoil is — say it with me — bangs! There's something cathartic and more than a little symbolic about chopping off your hair following some kind of major life discovery.
Before her disappearance, Lee was known for running a ferociously upbeat account that promoted things like listening to your body, setting intentions each month, and, uh, pairing various seeds to weeks in your menstrual cycle. She also makes killer, made-for-Instagram food like smoothies topped with artfully arranged berries, butters, and seeds. Like all influencers, she prided herself on being open and honest with her followers. She was also a bit kooky — she once talked about going through her dog's poop to find his baby teeth, which she wanted to make into jewelry.
Because she prized being centered, she would take breaks from Instagram, but up until February they never lasted for more than ten days. I'll admit I checked in on her every month or so this spring, hoping that maybe I just missed her return. So what has she learned? Why is she going to be "using her platform in a different way?" Why are comments on the post disabled, meaning her fans must leave "welcome back" comments on other posts?
In October, Lee had a mini-scandal that involved high-priced tickets to her workshop tour (sound familiar?). In her hiatus announcement in February, she said she had been thinking about taking a break for six months — or since about October. So possibly the backlash from the scandal was a contributing factor in Lee's break. But between her bowl cut and the T-shirt that reads "power" with two angry cats on it, something tells me that it may be a different LFA we're getting this time around. Welcome back to the 'gram, Lee!