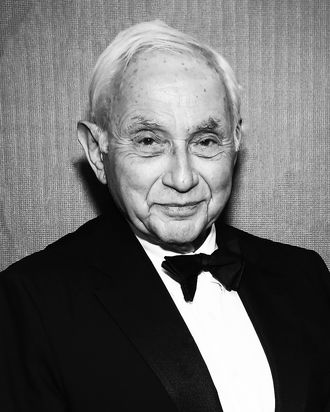 Photo: Astrid Stawiarz/2016 Getty Images
As details of the Jeffrey Epstein case continue to unfold, more and more high-profile names are surfacing in relation to the billionaire financier and convicted sex offender, including members of the Royal Family, Donald Trump, Bill Clinton, and British socialite Ghislaine Maxwell. Another such name is Les Wexner, chairman and CEO of the L Brands corporation, the parent company of brands including Victoria's Secret.
To summarize: Epstein was arrested in early July for the alleged sex trafficking of dozens of minors in New York and Florida between 2002 and 2005. He faced similar charges a decade ago, but was granted a lenient plea deal. He now faces new charges, brought by the Southern District of New York. In a criminal indictment unsealed July 8, federal prosecutors claim that Epstein lured underage girls, some as young as 14, to his homes in Manhattan and Palm Beach under the guise of paying them cash for massages. He then allegedly molested them and encouraged them to recruit other young girls to return with them.
Although Wexner has been accused of no wrongdoing himself, he is the former owner of Epstein's New York mansion, as well as his onetime "mentor" and only known financial client. Below, a breakdown of what we know of their relationship.
Who is Les Wexner?
Leslie H. Wexner is the chairman and CEO of L Brands (formerly Limited Brands), a retailing and marketing conglomerate that currently includes Victoria's Secret, Pink, and Bath & Body Works. He is one of America's longest-serving CEOs, and his net worth is a reported $4.8 billion.
What is his financial connection to Jeffrey Epstein?
According to a 2002 New York profile on Epstein, Wexner hired Epstein to be his financial adviser in 1987. (A 2003 Vanity Fair profile, however, references Epstein saying Wexner hired him in 1986, and then changing his story to say it was 1989.) Some speculated that Wexner was Epstein's only client and therefore responsible for the bulk of his fortune, but others denied this claim, including Epstein himself. According to a recent follow-up by Vanity Fair writer Vicky Ward, Wexner never commented on this matter directly.
"It's a weird relationship," a Wall Streeter who reportedly knew Epstein told New York at the time. "It's just not typical for someone of such enormous wealth to all of a sudden give his money to some guy most people have never heard of."
Wexner told Vanity Fair that he and Epstein "frequently discuss[ed] world trends," Epstein being skilled in "seeing patterns" in politics and financial markets, Wexner in lifestyle and fashion.
According to a recent report by the Times, Wexner trusted Epstein's instincts so much, he assigned him power of attorney in July 1991. This allowed him to "hire people, sign checks, buy and sell properties and borrow money — all on Mr. Wexner's behalf." Epstein even took the place of Wexner's ailing mother on the board of the Wexner Foundation in 1992. One person who worked for Wexner also told Vanity Fair that Epstein was involved in "everything," including litigation around the construction of Wexner's yacht, Limitless.
Were they close?
Beyond finances, the New York profile describes Wexner as being Epstein's "mentor." A Times article from 1996 calls Epstein his "protégé." And in the Vanity Fair profile, Wexner is also quoted describing Epstein as "a most loyal friend."
That said, a spokeswoman for Wexner told the Times on Monday that he "severed ties" with Mr. Epstein about a decade ago. A representative for Wexner reiterated this to the Cut on Tuesday as well.
What about their real-estate connection?
The New York property where Epstein allegedly committed his crimes — a seven-story mansion at 9 East 71st Street — was originally bought by Wexner for $13 million in 1989. He did a full renovation but never moved in himself, preferring to stay in Ohio, where L Brands is headquartered.
According to New York, Wexner "turned over" the property to Epstein in 1995. (Epstein publicly claimed ownership in 1996.) One story, according to New York, has Epstein paying only a dollar for it, though others say he paid $10 million. He then did a renovation of his own. The only records of a transaction are from 2011, when Epstein signed a transfer document for both parties. A purchase price was not listed, indicating that the transfer "did not involve any exchange of money," according to the Times.
Epstein also once owned a luxury estate near Wexner's in Ohio. According to a new report by the Times, Maria Farmer claims that Epstein sexually assaulted her in Wexner's Ohio mansion in the summer of 1996. She filed the report earlier this year in federal court in Manhattan.
What does this have to do with Victoria's Secret?
According to the Times, less than a year after Farmer's alleged assault, executives at L Brands learned that Epstein was "trying to involve himself in the recruitment of lingerie models for the Victoria's Secret catalog." In May 1997, Alicia Arden, a model in California, claims that Epstein identified himself as a "talent scout" for the lingerie brand. He allegedly invited her to his Santa Monica hotel room to "audition." According to Arden, he grabbed her, tried to undress her, and said he wanted to "manhandle" her. She went to the police shortly thereafter and filed a report. It is one of the earliest known police records of an allegation of sexual misconduct against Epstein.
According to two executives interviewed by the Times, Wexner was alerted to Epstein's behavior and "promised to take care of the issue." Epstein was charged in 2006, and Wexner allegedly severed ties 18 months later.
A spokesperson for L Brands told the Times: "We do not believe [Epstein] was ever employed by nor served as an authorized representative of the company."
What does this mean for Victoria's Secret?
The company is already in hot water following widely criticized comments about diversity made by top executive Ed Razek last year, and the Victoria's Secret fashion show suffered its worst ratings ever. Although Wexner has been accused of no wrongdoing himself, and claims to have "severed ties" with Epstein over a decade ago, his previous relationship with Epstein means more unfavorable press for a brand that sells underwear to women, many of whom are teenagers.