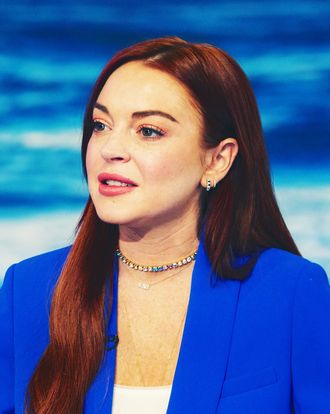 Lindsay Lohan.
Photo: NBC/NBCU Photo Bank via Getty Images
Over the weekend, Lindsay Lohan opened her mouth and something downright peculiar came out. It was shapeless; its appearance was brief. It was … the hint of yet another new voice.
Ahead of her new gig as a The Masked Singer Australia guest judge, the actress has been spending a little time down under, where she appears to have picked up more than just temporary employment — she also acquired what is at least her third but probably closer to her fifth new accent. In a selfie video posted to Instagram, LiLo says, "G'day mates," blows a kiss to the camera, and then continues, "I'm here in Australia." As a whole, the video is no longer than a few seconds, but is just long enough for the viewer to notice that LiLo has traded out her previous bizarre accent for one that is equally as indistinguishable — just this time, it features a vaguely Australian intonation. Crikey!
For anyone who's been following LiLo over the past few years, while she's attempted to make it as an island designer and nightclub owner and reality-TV star, it's no surprise that she has adopted yet another new accent. In fact, it's likely not even shocking to Lilo herself, who addressed her proclivity for adopting new vocal patterns earlier this year. In an interview with Entertainment Tonight, she explained that her voice changes when she's "around certain dialects," as she just "[picks] things up along the way."
When will Lilo's real voice return from war?