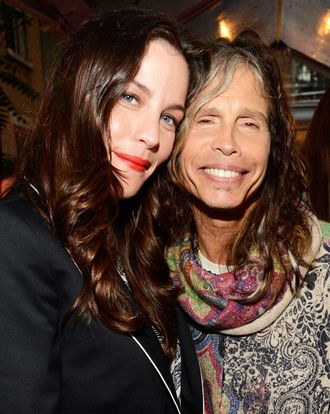 Glow-y skin care lovers Liv and Steven Tyler.
Photo: Kevin Mazur/WireImage
Sometimes, if you watch long enough, you'll find that Vogue's Beauty Secrets videos contain a fun little nugget of insider information beyond the products famous people like to rub into their faces. For example, in the latest episode featuring the lovely Liv Tyler, the actress lets us know that her dad (Aerosmith's Steven Tyler), is super into skin care. Like way beyond a simple starter three-step routine. We're talking K-beauty status.
While applying the very blue Astara Blue Flame Purification mask, Tyler tells the camera in her extremely soothing voice that her obsession with skin care started with listening to her grandma, who always underlined the importance of moisturizing every day, and that wisdom didn't skip a generation with Mr. Tyler. "She also taught me about exfoliating, and I also noticed that from my dad. My dad is so into skin care; when I go visit him, I usually spend half the time in the bathroom with him, just going over products. He's got his whole bathroom filled," she says.
I've been scrolling through Papa Tyler's Instagram account ever since and sadly have yet to find a shelfie, but Liv says the proof is actually in the selfies. " … if you look at him, he's turned 70 and he has the most beautiful skin, but it's because he takes really good care of it."
Hopefully the frontman starts tagging some brands soon. His alleged focus on exfoliation would round out the current pool of musically inclined male beauty influencers quite nicely, with Jeff Goldblum holding down the moisture front with Summer Friday's Jet Lag Mask and John Mayer focusing on bath bombs, lipstick, and candles.