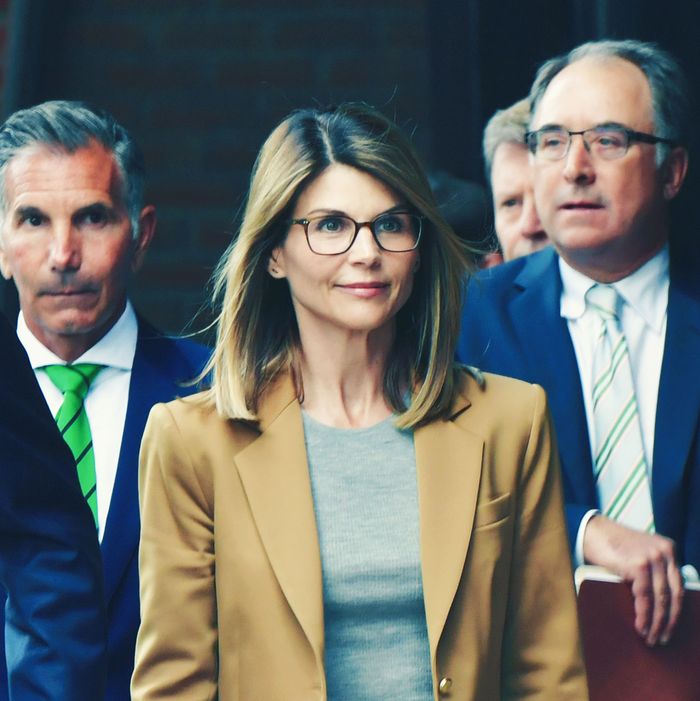 Photo: Paul Marotta/Getty Images
It was only a matter of time before Lifetime would start planning a movie about the big college-admissions scandal of 2019, dubbed Operation Varsity Blues. After all, the sordid tale of rich Hollywood moms and their desire for their kids to get into college at any cost (including Photoshopping the teens' heads on pictures of athletes) was fated to become a part of the elite network behind such classics as Death of a Cheerleader and The Pregnancy Pact. Today, Lifetime announced it will produce a two-hour movie inspired by the crimes committed by a number of wealthy parents, including Lori Loughlin and Felicity Huffman, who were accused of paying thousands of dollars to get their children accepted into top colleges.
Though Lifetime does not specify any of the actresses' names in its announcement, it's clear the upcoming movie is based on Aunt Becky's drama:
College Admissions Scandal will follow two wealthy mothers who share an obsession with getting their teenagers into the best possible college. When charismatic college-admissions consultant Rick Singer offers a side door into the prestigious institutions of their dreams, they willingly partake with visions of coveted acceptance letters in their heads. But when Singer cooperates with the FBI and pleads guilty, the mothers, who risked everything for their kids, must face the consequences of their crimes and the loss of trust and respect from their families.
Loughlin and her husband, Mossimo Giannulli, were accused of paying up to $500,000 for their two daughters to be accepted to USC under the false pretense that they were recruits for the school's crew team. Both Loughlin and Giannulli have pleaded not guilty and are awaiting trial, though Loughlin apparently believes she will "be exonerated" from the charges, according to Us Weekly. After news of the scandal spread, Loughlin was fired from her projects with the Hallmark Channel and lost her role as the beloved Aunt Becky in Fuller House. Sadly, she will probably not be asked to play herself in the Lifetime movie.
Meanwhile, Huffman pleaded guilty to accusations that she paid $15,000 in a college-entrance-exam cheating scheme and will be sentenced in September. A total of around 50 people, including celebrities, coaches, and business executives, have been accused of participating in the scam.