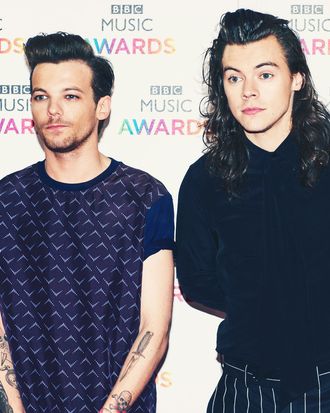 Photo: Brian Rasic/WireImage
Following an episode of HBO's Euphoria that features an animated sex scene between former One Direction members Louis Tomlinson and Harry Styles, Tomlinson claimed on Twitter that he was not contacted ahead of it airing, nor did he approve the cartoon likeness.
This past Sunday night, the show — which follows several troubled teens dealing with secrets in the suburbs — had a subplot about homoerotic fanfiction, a noted teen pastime. In the episode, character Kat Hernandez's writing about the boy band is described in detail. To help viewers visualize the story, the show added an animation of her most popular fanfiction piece; in the story, titled "The First Night," Tomlinson and Styles relieve each another of stage-fright tensions through oral sex. While not too visually graphic, the scene is narrated by Zendaya, who puts on a British accent to voice the two pop stars' affections.
For those of you who have blacked out the years 2010–2015, or who were simply lucky enough to avoid the theory, I'll fill you in: "Larry Stylinson" is a One Direction fan conspiracy that insists that Louis Tomlinson and Harry Styles are romantically and/or sexually involved. Fans wrote — and still write — a lot of Larry fanfiction, which is well preserved online. It can be, as the episode acknowledges, highly explicit.
This isn't the first time that Tomlinson has expressed discomfort with the way some fans discuss himself and Styles; he has refuted any relationship outside of friendship on multiple occasions. On Monday night, he responded on Twitter in response to a fan concerned about the scene: "I can categorically say that I was not contacted nor did I approve it."
He doesn't sound even slightly amused, but he should watch the rest of the episode! Larry Stylinson wasn't even a C-plot in that episode, which involved (checks notes) … paypig humiliation and goldfish swallowing. Mom, please don't look any of those words up, including Larry Stylinson.