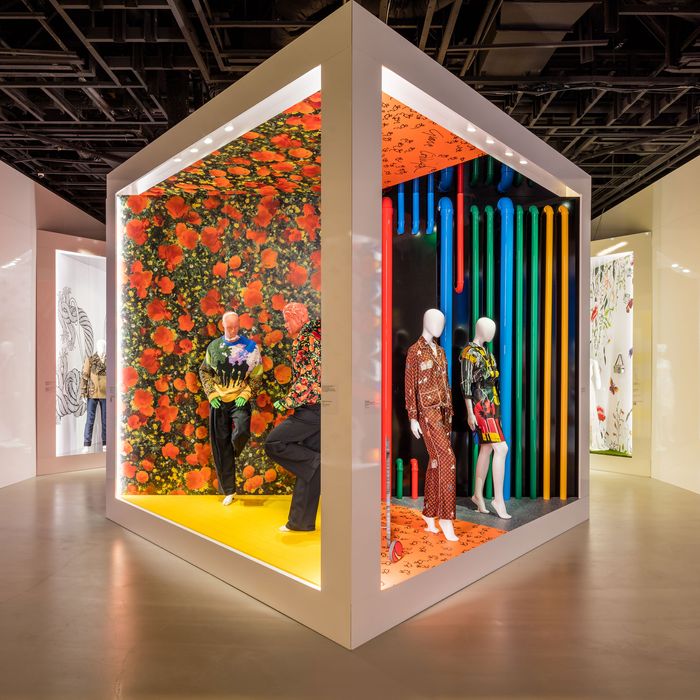 Photo: © Brad Dickson 2019
A trip to the LACMA or the Getty is always nice, but if you're in Los Angeles and want a more fashionable museum experience, Louis Vuitton is here for you. The storied French brand just opened an exhibition in Los Angeles last Friday.
The exhibition, called Louis Vuitton X, sits on the corner of Santa Monica Boulevard and Rodeo Drive, with orange and pink accenting the façade like a new wave sunset. Once inside, guests will be able to explore the brand's history of collaborations from the last 160 years across two floors and ten rooms. Of course, there are rooms dedicated to current artistic directors Nicolas Ghesquière and Virgil Abloh, but there's also a large collection of collaborations with artists and designers like Karl Lagerfeld, Rei Kawakubo, Cindy Sherman, Frank Gehry, Yayoi Kusama, and Zaha Hadid. To top it all off, the colorful glowing neon displays are perfect social media fodder.
Of course, it wouldn't be a Louis Vuitton function without goodies to purchase. On the top floor of the exhibition, visitors will be able to buy a selection of ready-to-wear, leather goods, accessories, shoes, fragrances, and books.
Louis Vuitton X will be open to the public at 468 N. Rodeo Drive in Los Angeles until September 15. Keep scrolling to see photos from the exhibition.