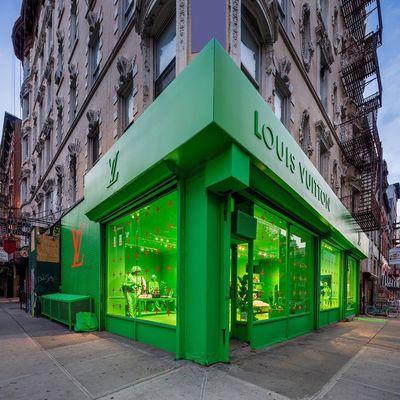 Photo: Courtesy of Louis Vuitton
Did you think the slime green trend was going to die soon? Well, think again. Last week, hypebeasts flocked to the Lower East Side for the opening of a Louis Vuitton pop-up that is entirely slime green (#LVGreenscreen). That's right: the exterior, the interior, the furniture, the mannequins, even the metal cages out on the street where the trash goes — they're all the same unnatural color.
The store celebrates men's fall/winter 2019 collection, designed by Virgil Abloh. There, shoppers can peruse new merchandise including prints inspired by New York City, patches inspired by the Louis Vuitton archives, monogrammed accessories, flag prints that represent the nationality of studio designers, an updated version of the "Skate" Trainer, and rainbow and prism-colored leather goods.