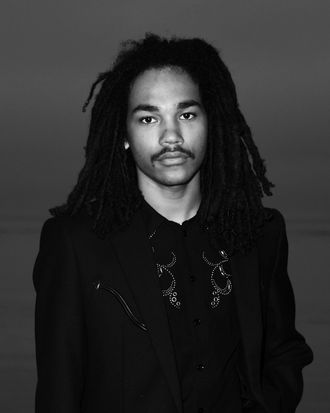 Photo: VALERIE MACON/AFP/Getty Images
In summer, Instagram is at high tide. Every day offers a new opportunity to post an enviable outfit, an idyllic vacation, or, at the very least, an Aperol spritz.
Unfortunately for "It" boy Luka Sabbat, though, it's not all fun and games, specifically when it comes to branded content. Last year, Sabbat was sued by Snap Inc. for "failure to influence" after he allegedly promised to publish a series of Instagram posts that never fully materialized. And earlier this month, the streetwear brand Konus filed another Instagram-related lawsuit against Sabbat in L.A. Superior Court.
Named under its parent company, Catwalk to Sidewalk Inc., the Konus suit alleges that in July 2017, it was agreed that Sabbat would participate in a photo shoot for the brand's lookbook and share two permanent posts on Instagram with specified tags. Although it does look like Sabbat fulfilled the first part of the deal (you can see lookbook images on Hypebeast here), the brand claims he never shared any promotional posts on Instagram, where he currently has 1.9 million followers.
"To the present date, Luka Sabbat has not posted any Instagram posts with photos of Luka wearing Konus Brand clothing and promoting the same," reads the suit. It also alleges that Sabbat, through his agency and other channels, has represented "several times" since early February 2018 that he would honor the agreement.
Konus claims that it paid a total of $30,090 to REMM, Inc., Sabbat's agency at the time, and is now asking for $40,000 in damages. REMM, Inc. is listed as a defendant, as are Sabbat and his father, Clark.
Regarding the matter of Instagram, Sabbat's rep declined to comment.
"We will not litigate in the court of public opinion, but we want to clearly state that we are not in the business of 'bilking,'" the rep told the Cut, referencing a recent Variety headline on the subject. "We are aware that miscommunications can naturally occur, but we are confident that we will be able to work this out in an amicable manner to the satisfaction of all parties."
"We have been trying to resolve this matter for approximately two years," Catwalk to Sidewalk Inc. told the Cut in an emailed statement via a lawyer. "We had to resort to this lawsuit to assert our rights."
Last year, Sabbat turned the press around his "failure to influence" into further Instagram fodder. He's made no mention of the latest suit on his social-media channels, but there's never a dull moment for the young star.