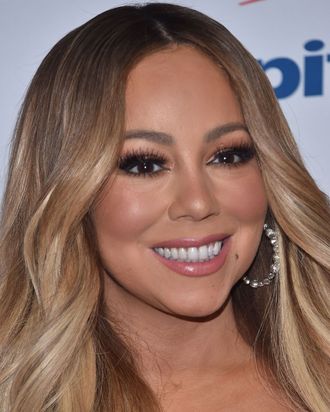 Photo: CHRIS DELMAS/AFP/Getty Images
Every so often, a ridiculous internet challenge goes viral, whether it's jumping out of a car and dancing to a Drake song (2018's In My Feelings Challenge) or posing like statues (2016's Mannequin Challenge). The newest one to go around is the Bottle Cap Challenge, which requires the participant to unscrew the cap of a bottle via roundhouse kick. While celebrities like Jason Statham and John Mayer have mastered the challenge with their impressive bottle-cap-kicking prowess, there is now one true winner, and that is Mariah Carey.
In a video posted to her Twitter account, Carey is seen wearing a sparkly, black bodycon dress and setting up a karate stance. Instead of kicking the cap off, she puts her finger to her ear in typical Mariah fashion and releases one of her signature high notes. The bottle cap flies off and away, beautifully. Almost like a butterfly.
A job well done, if you ask me, though the chancla did come in a close second.
Carey is the latest celebrity to participate in the challenge after Mayer and Statham, ahem, kicked it off. According to the New York Times, the challenge appears to have been started by Kazakh taekwondo champion Farabi Davletchin, who asked various celebs to join in.
They were soon followed by Diplo, Ellie Goulding, and Whitney Cummings, as well as Ryan Reynolds and Blake Shelton, who took the challenge as an opportunity to promote their alcohol brands.
While Carey has won this battle, I'd like to see a few more star-studded bottle-cap kickings. Can Dolly Parton kick one of her high heels at an empty bottle of Malbec? Or Marianne Williamson? (With her mind.) Perhaps some of the internet zaddies can join in. Can we see Jeff Goldblum's elongated stems in action? How about Keanu Reeves? He is trained in martial arts, after all. Let's ask Jake Gyllenhaal to give it a whirl. Surely he's not completely done with his Spider-Man: Far From Home promo.
Whoever is brave enough to continue this challenge, I wish them the best of luck in beating Mariah.