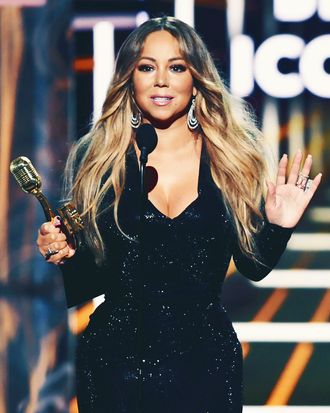 Mariah Carey.
Photo: Kevin Winter/Getty Images for dcp
In a interview with Cosmopolitan, Mariah Carey opened up about her marriage to music executive Tommy Mottola. The two were married in 1993 when Carey was 23 years old and Mottola was 44. Carey spoke to Cosmopolitan about the relationship and marriage, stating, "You might want to picture a child bride."
Carey and Mottola began their relationship in 1991, when he was head of Sony Music. Carey had recently graduated high school, and according to the New York Post, he promised to make her a worldwide star. Carey told Cosmopolitan that she felt trapped by Mottola, saying: "There was a conscious effort to keep me as this all-American, whatever that means, girl. It was very controlled. There was no ­freedom for me as a human being. It was almost like being a prisoner." In 1999, Carey spoke of the marriage to Interview magazine, stating that she "always felt like the rug could be pulled out from under me. [With Tommy] I felt safe and I felt a sense of family. It just didn't work out because it became too suffocating."
In his 2013 memoir, titled Hitmaker: The Man and His Music, Mottola admits that the relationship was "absolutely wrong and inappropriate." But he nevertheless credits himself for her success, writing: "If it seemed like I was controlling, I apologize. Was I obsessive? Yes. But that was also part of the reason for her success." In his memoir, Mottola also notes that his therapist actively told him not to pursue Carey, but he persisted.
The couple split in 1998, and considering that she went on to make nine hit albums after the fact, it seems like he overplayed his so-called contribution to her career.