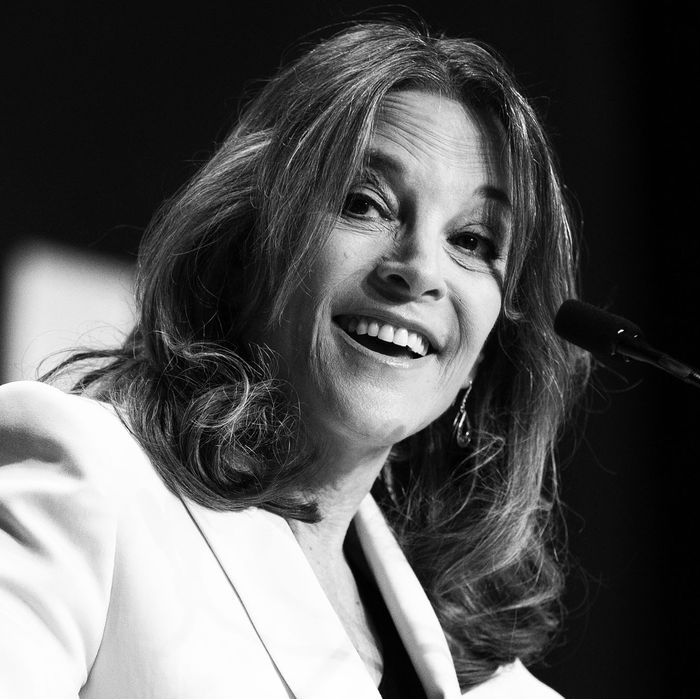 Marianne Williamson.
Photo: Daniel Acker/Bloomberg
Ahead of the second round of the 2020 Democratic debates, CNN has become the latest outlet to publish a list of fun facts about the one million candidates vying to be our next president. Among the 20 bits of information, one in particular stands out: This candidate "officiated Elizabeth Taylor's marriage to her seventh husband, Larry Fortensky, at Michael Jackson's Neverland Ranch in 1991." While many of the roundup's facts could not be described as fun, this one certainly is … but can you guess which candidate it is?
Could it be John Hickenlooper, a man who once asked the New York Times, "Have you seen my YouTubes on the banjo?" No: He is revealed in the roundup to "like beer." Could it be John Delaney, whose own staffers have reportedly already asked him to drop out of the race? No — his fun fact is that he "knows his way around a gym." Could it be Tim Ryan, a man we may never know anything about? No, shockingly enough, it's … Marianne Williamson.
That's right: Nearly three decades ago, the now-67-year-old spiritual adviser to Cher and confidant of Oprah Winfrey officiated the Old Hollywood legend's California wedding to a construction worker 20 years her junior. This is not the first time Williamson has shared this bit of trivia. In a Q&A with The Hollywood Reporter published earlier this month, she divulged that a "very excited" Taylor asked her to officiate her eighth wedding in 1991. (Fortensky was Taylor's seventh husband — she and Richard Burton were married twice.) From what can be gleaned from People's October 21, 1991, cover story on the nuptials, the "media-saturated" ceremony was quite the event: Taylor walked down the aisle wearing a $25,000 pale-yellow Valentino gown, and everyone from Liza Minnelli to Nancy Reagan was in attendance.
When asked what she felt during the ceremony, Williamson said simply, "All kinds of things." (Sadly, she did not shed any more light on the journalist who was arrested after he parachuted into the ceremony from one of the 15 or so helicopters that swarmed overhead.)
After Taylor's divorce from Fortensky five years later, Williamson said, "any time I ran into her she seemed to want to explain almost apologetically how her marriage did not work — almost concerned that I might have taken it personally. It was rather touching."
If only we could get 20 new details about Williamson's life for every time we have to read that Mayor Pete plays the didgeridoo.