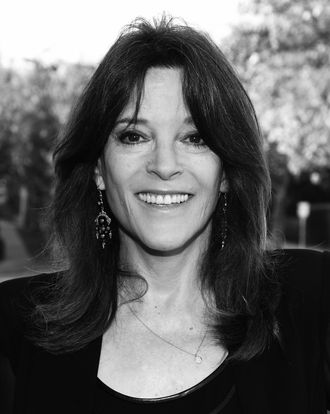 Marianne Williamson.
Photo: Jason Kempin/Getty Images
On Monday, Vogue published a story about the significant number of Democratic women who have tossed their name in the hat to become the next U.S. president. Titled "Madam President? Five Candidates on What It Will Take to Shatter the Most Stubborn Glass Ceiling," the story was overall commendatory and largely met with praise. There was, however, at least person who seemed deeply unsatisfied with the report: spiritual adviser to Oprah, former roommate of Laura Dern, and the sixth female presidential candidate, Marianne Williamson.
To Vogue's credit, the story, written by Amy Chozick, does acknowledge that Williamson is running — though perhaps that's what's makes it all the more insulting to Williamson, who on Tuesday went after the magazine on Instagram. Beneath a screenshot of one of Annie Leibovitz's photos of Amy Klobuchar, Tulsi Gabbard, Kirsten Gillibrand, Elizabeth Warren, and Kamala Harris, she wrote a lengthy caption about "why it matters" that she wasn't given the same treatment as the other women.
"The issue is ethical responsibility on the part of the media," Williamson said, adding with typical Williamsonian flair: "The framers of the Constitution did not make Vogue magazine the gate keepers of America's political process, here to determine who and who is not to be considered a serious political candidate."
As a whole, the caption is simply a plea to be taken seriously as a candidate. Though she may be the only woman running who has not held elected office, she stresses that she meets all the qualifications to be president of the U.S. (being at least 35 years old, born in the country, and having lived here for 14 years). Furthermore, she insists that the framers left it up "to every generation to determine for itself the skill set it feels is necessary to navigate the times in which they live." Williamson clearly feels that her moral leadership — harnessing the power of love! — is in line with FDR's vision of the presidency.
"If we're going to free this country to be all that it can be, then first we have to free ourselves from the thought firms dictated to us by a corporate/political/media establishment," her caption continues. "It is the people and the people alone who should decide who will be their president, unburdened by the insidious influence of an elite on patrol."
Incomparable wisdom, per usual, from Marianne!