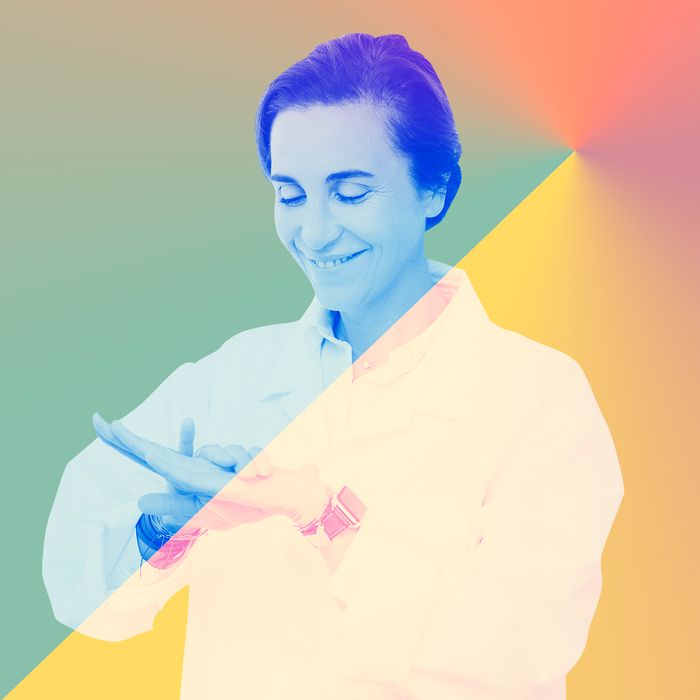 Photo: Courtesy of Caudalie
When Mathilde Thomas was studying to become a perfume "nose" in Nice, France, in 1993, her parents beckoned her and her boyfriend Bertrand to their vineyard in Bordeaux one weekend during the harvest season. "There was a team of researchers there studying the byproducts of the vines," recalls Thomas. "My father said, 'You and Bertrand should join them on the tour of the vineyard."
The young couple learned that the antioxidants found in their grape seeds were ten times more powerful than vitamin E — so strong that Dr. Joseph Vercauteren, a professor from the University of Pharmacy at Bordeaux, had tapped them for a blood-vessel strengthening medication. Which got them thinking.
"[Grape seed] hadn't been used in skin care because the ingredient was extremely unstable," remembers Thomas. "But Dr. Vercauteren had found a way of stabilizing it with a fatty acid. We knew we had a very strong molecule on our hands, so we partnered with him." Two years later, they launched Caudalie, a luxury skin-care brand based on the antioxidant properties of grape seed–derived resveratrol and polyphenols.
For Thomas, the power of plants were instilled early on. She learned about them on hikes in the French Alps with her grandparents. Meanwhile Bertrand, whom she met in prep school (and eventually married), had decided in business school that he wanted to launch a skin-care brand. The grape seeds could no longer be ignored.
As the line expanded, so did the ideas. When her parents opened a hotel on their vineyard, Chateau Smith Haut Lafitte, Thomas requested one of the rooms for spa treatments. It became the first Caudalie Vinotherapie Spa, of which there are now eight, including three in Manhattan.
Sybaritic treatments aside, Thomas's heart lies in research. Along with Dr. Vercauteren, with whom Caudalie has collaborated for 25 years, she also works with David Sinclair of Harvard Medical School on compounds and delivery systems, all via clean formulations.
"We were pioneers in the clean field," she points out. "In 2005, we removed parabens, colorings, phthalates, sodium laurel sulfates and animal ingredients, but when we presented that in the U.S., it didn't resonate. Now, of course, everyone talks about it, and my list of suspicious ingredients grows and grows. By 2021, our formulas won't just be clean, but extremely clean."
Thomas spoke with the Cut about her ongoing quest for the dry-hair curatives, bike-friendly fashion, and how she can probably guess what fragrance you're wearing.
What's your definition of beauty?
A great soul and a healthy body.
What do you think when you hear the term "clean beauty"?
Products with no hormone disruptors, but also non-irritating for the skin and clean to the planet (biodegradable formulas, recycled and recyclable packs).
Is there anywhere in your life that you're not quite that "clean," "green," or "sustainable"?
Not really, I travel by plane more than I would like to, but my bicycle has been my primary mode of transport for ten years.
Please fill in the blank as it pertains to something connected to your beauty, self, routine, product or otherwise: I think about ____ a lot:
Glow.
What is your morning beauty routine?
Caudalie Cleansing Oil, a spritz of Beauty Elixir, then Vinoperfect Radiance Serum, S.O.S Intense Moisturizing Cream, Premier Cru Eye.
What's the last beauty product you use every night?
Caudalie Premier Cru, The Cream.
Who cuts your hair?
David Lucas, in Paris.
Who colors it?
Christophe Robin, in Paris.
Favorite spa treatment?
The Resveratrol Lift facial at Caudalie. It has an incredible massage that gives an immediate tightening effect.
Mascara of choice:
ILIA Limitless Lash Mascara.
Tinted Moisturizer of choice:
Caudalie tinted moisturizer.
Blush of choice:
Kjaer Weis Cream Blush and RMS Lip2Cheek.
What, if anything, is usually on your lips?
Caudalie lip conditioner and French Kiss tinted lip balm.
What shade, if any, is usually on your toes and/or hands?
Kure Bazaar in French Rose.
Facial cleanser of choice:
Caudalie Makeup Removing Cleansing Oil.
Fragrance of choice:
Caudalie Thé Des Vignes and Christian Dior Escale à Portofino.
Preferred sunscreen and SPF #:
Caudalie's new SPF 50. It is clean for your face and clean for the ocean.
Deodorant of choice:
Malin & Goetz Eucalyptus Deodorant.
Shampoo/Conditioner of choice:
Christophe Robin and Briogeo.
Scented candle of choice:
Officine Buly Campagne d'Italie and Caudalie Fleur de Vigne.
What discontinued product do you mourn?
Ojon Restorative Hair Treatment.
What was your first beauty product obsession?
Reading 'Perfume' by Patrick Suskind. I wanted to become a nose after that.
Daily purse of choice (both brand and style, if possible):
Hermès Herbag in beige.
Work shoe of choice:
Black flat Nubuck boots.
Weekend shoe of choice:
Veja sustainable sneakers.
What is your classic uniform?
Jeans and white shirt on weekends. For work, a pretty skirt and a white shirt from Isabel Marant, Ba&sh, or Soeur. Also any dresses or skirts from these brands that I can also bike in.
How do you like your bed to be?
Hard mattress, white and beige linen sheets by Matteo.
What do you splurge on?
A super-moisturizing hair mask. I try all the new ones for dry hair.
What do you scrimp on?
Mani/pedis. I have three kids, travel all the time, and work like crazy.
Any hidden or secret talent or skill you possess?
I have a good nose. I used to recognize the fragrances my parents' friends were wearing, causing them to worry that they'd applied too much. My parents weren't thrilled when I did that, but it got me my first internship at 15, working for Cacharel.
If you could have one ridiculous indulgence, what would it be?
Bathing in organic grape water.
What tiny thing can make your day?
When my family's band performs. They're called The French Fries. My husband plays drums and guitar, my daughter Marion sings, and my other children Louise and Paul sing and play guitar. I cannot sing well, so I am their No. 1 fan.
Last great book you read?
Educated: A Memoir by Tara Westover.
What word do you overuse?
Génial.
Favorite smell?
Neroli, vine flower.
Least favorite smell?
Rotten meat.
What do you think Pantone's color of 2020 should be, and why?
A soft gentle pink. It's time for more softness in this world and we want girl power.
What beauty product still needs to be invented?
A pill that is SPF 50.
What was the biggest "No" you heard in your career? What did you learn from it?
I don't take no for an answer.
What was the biggest "Yes"? What did you learn from that?
When I married Bertrand. I learned that you can have three kids and create your own business with your better half.
What do you wish more people knew about what you do?
That Caudalie is an active member of 1% for the Planet and donates 1% of its global revenues to better the environment. We've planted over 4 million trees so far and are committed to an additional 4 million in the next couple of years.
Please share a moment from your career that touched you.
Receiving the medal of honor from the French prime minister, Edouard Philippe, rewarding me for my entrepreneurial achievements, among which are my highly effective products, my "cosm'ethics," and my commitment to the planet.
What is the biggest tip you can give that will change people's lives?
Choose a job that you love.
What is always in your fridge?
Coconut and almond milk, and homemade kombucha.
Most impressive dish you make:
Green risotto and Gougères.
What food would you never eat?
Brain, veal, snail, grenouille.
What do you foresee as the top beauty trends for the remainder of 2019?
Clean beauty, finally! All of the leading skin-care brands are now going green. It's a good start. I am very proud that Caudalie was clean before it was cool to be clean; it's part of our brand DNA and important to me personally.
What product of your brand is misunderstood and should be a best seller?
Makeup Removing Cleansing Oil. It's 100% natural; removes waterproof makeup, and helps to grow lashes and eyebrows.
What product is currently your favorite (understanding that this could change all the time)?
S.O.S moisturizer is the most hydrating moisturizer Caudalie has and 98% natural. It's truly a skin savior and very soothing for super sensitive skin.
If you won the Power Ball tomorrow, what are the first five things you would do? (after, of course, donating the majority of it to your top charities…)
I am already so fortunate. I would donate most of it to better the environment and give the rest to causes I feel passionate about.
If you buy something through our links, New York may earn an affiliate commission.