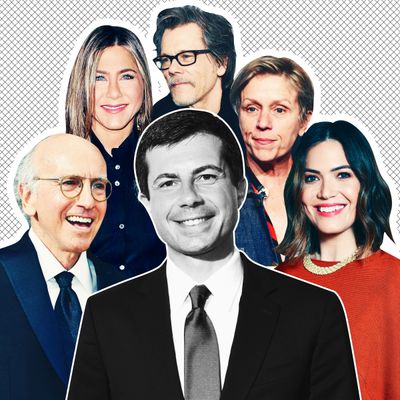 Who is Hollywood's 2020 Democratic candidate? Is it Rosario Dawson's bald beau Cory Booker? Is it Marianne Williamson, the Maryam Nassir Zadeh–wearing, self-proclaimed "bitch for God"? Is it Bernie Sanders, of the Three Sanders Sisters (Shailene Woodley, Susan Sarandon, and Sarah Silverman), beloved also by Ms. Belcalis Marlenis Almanzar? Could it be onetime-Beyoncé-endorsed Beto O' Rourke, who, if you will recall, was in a band?
No, it's none of them (and it's obviously not Bill de Blasio, who has the loyal support of only Steve Buscemi). The celebrities have anointed Pete Buttigieg, the docker-clad, multilingual, gay, ex-military mayor of South Bend, Indiana, who lost steam in the mainstream press after his somewhat prematurely characterized "meteoric rise" earlier in the year, but who has gained momentum among the people who know the least about anything to do with real life. That's right — he's been touched by an angel, and the angel is Gwyneth Paltrow, and by touched I mean she gave him money and invited him over.
Filings released by the 2019 Federal Election Commission this week show that Mayor Pete was in second place this quarter behind only Bernie Sanders, raising $24.9 million from individual donors. GP is chief among them: This quarter she gave him $2,800 dollars, after hosting him for a fundraiser in May with The West Wing's Bradley Whitford. It is unknown whether she and husband Brad Falchuk toasted Mayor Pete and his husband Chasten with fresh juice and served miniature dumplings made out of cabbage leaves but one can only hope.
In addition, Buttigieg received donations from Anna Wintour ($2,800), Mandy Moore ($3,818.86), Tom Ford ($5,600), Larry and Cazzie David ($2,800 each), Kevin Bacon ($2,800), Michael J. Fox ($2,800), Frances McDormand ($3,000), Matt Bomer ($2,800), Jeffrey Katzenberg ($2,800), Marilyn Katzenberg ($2,800), and John Stamos ($1,000). Other donors include Jennifer Aniston, Sean Hayes, Caroline Kennedy, Ryan Murphy, Ted Danson, Sharon Stone, and George Takei.
Celebs have given to other candidates this quarter too, of course — Amy Schumer, Rosie O'Donnell, Scarlett Johansson, Ryan Reynolds, Bette Midler, and Shonda Rhimes have all supported Elizabeth Warren; and Rita Wilson, Emma Roberts, Jennifer Garner, Don Cheadle, Lily Tomlin, Leslie Odom Jr., and Cecily Strong gave to Kamala Harris. But Buttigieg's surge in second quarter cash is surprising given his fairly stagnant poll numbers and his lack of name recognition (the other top contenders are already sitting U.S. senators).
So, why Mayor Pete? It seems like it would make the most sense for Williamson to receive Hollywood's adoration, just going off her credentials alone: She's a lifestyle guru who used to live with Laura Dern. Maybe it's that Williamson is simply too spicy, and they can't pick one of their own or they would be accused of being unserious, wacky, and out of touch.
Perhaps it's that Buttigieg has the lack of experience maverick appeal of an outsider that celebrities so desperately crave. They can feel like they're throwing their weight behind an underdog yet he's also incredibly palatable, with a cute husband and their dog living in a remodeled Victorian house. But he also served in the military? Fun! He speaks Norwegian? Chic! And he doesn't talk about how rich people are the problem all the time? Now that is refreshing.