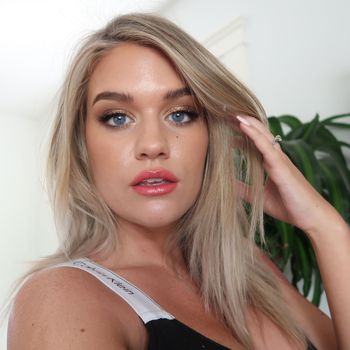 If we followed every beauty influencer's Youtube channel and Instagram, I'm not sure we'd have time for much else. That's the excuse I'm going to use for not knowing Samantha Ravndahl. The Saskatchewan-born, Vancouver-based makeup artist started doing tutorials and product reviews in 2013 and has amassed a social-media following of 2.1 million. In November, she decided to ask beauty companies to stop sending her products, and when the Canadian beauty editors and hosts of Breaking Beauty podcast Jill Dunn and Carlene Higgins told me about this proclamation, I gasped.
Influencers, like beauty editors, get products sent to them (us) for free. It's part of the job. 99 percent of the time, we don't request them. They're new, or they're not new but the company would love some love because "It's sunscreen time again!" or "The holidays are for wearing red lipstick!" We spend a good portion of our days unpacking them, then pulling out the ones we think our readers or followers would be interested in. It would be pretty impossible for us to write about every single product a company launches, hence the editing part. Theoretically, we could send back what we don't end up covering, but that would take even more time and money. Ravndahl says that she was receiving around an average of 30-40 launches each month, and she found herself in perpetual review mode.
"Every time a new product was sent to me, I'd look at it and think, Well, it's here, it's new, I might as well review it. That was not the kind of content I would want to watch. More importantly, I wouldn't want to be told to buy something new when just last week, I'd been told to buy something else that was really similar. That's not realistic, and that's not how people buy makeup. It's certainly not how I'd buy makeup. It was clogging my ability create."
It was also clogging her trashcans.
"What pushed it over the edge was the physical waste," she explains. "I live in a household of eight people, and the waste that I alone created was more than the others combined."
So, on November 16, 2018, she posted a video titled "No More PR," in which she explained how she reached this decision, and her management alerted the brands and public relations agencies.
As a beauty editor, I receive upwards of 20 packages a week, which adds up to a lot of products (and, yes, a lot of waste). Most beauty editors do one of three things with these products: take them home to try, put the ones we don't think we'll write about on a giveaway table at the office, or save them up for a beauty sale where co-workers can buy them at a heavily reduced rate, the proceeds of which are donated to a charity. (Here at New York magazine, we donate to Planned Parenthood.)
Ravndahl never had an office to help her deal with the influx of products. She was bothered by the fact that it cost publicists roughly three times more to ship products to her in Vancouver than it would domestically, not to mention the import tax she was occasionally expected to pay. But, mostly, it was all the excess packaging and waste that led to the moratorium.
"Over the past few years, I have received a Kitchen-aid mixer, three coffee machines, a Roomba, several martini shakers, several plastic backpacks, picnic baskets, sleeping pills, a gigantic plastic cherry, and a lit-up spaceship backpack that contained one single mascara," she rattles off in her video. "And the amount of boxes and fillers in them! I'd receive one product that came in a box that came in another box, that was packaged in yet another box. Mascara isn't breakable. The reasons for not accepting these packages far outweighed the reasons to keep accepting them."
Ravndahl's sentiment seems to be growing. While she may be alone in Cold Turkey land, many influencers are looking in that direction. Last June, Teni Panosian tweeted a request to have her name removed from PR mailer lists, and Marianna Hewitt (who also has her own brand, Summer Fridays) told me that many of her peers have begun asking brands to gauge their interest before sending. Alex Steinherr (also a product creator, Alex Steinherr X Primarc) says she's at "50/50" in the freebie versus buy scale, adding that most of her purchases are what can't be found in her native London.
Nine months in, Ravndahl remains pleased with her decision and says both subscribers and brands have taken the news to heart.
"I have heard that brands are pushing their teams for more low-key packages, which is fantastic," she says. "I feel less cluttered physically and mentally, and I get more use out of the products I own, which pushes me creatively. I feel excited about makeup again and get to purchase the things I want to review."
She might not be the first in her space to review any given product, but her audience has been pretty chill about it, and she's trying to remain chill when responding to those who have opinions.
"A lot of people said, 'Well, you're rich now' — I'm not — 'so you can just stop accepting these packages and come across looking like this great person for doing it.' But this wasn't some diabolical plan I'd had in the works," says Ravndahl, who relies on her Youtube channel and does sponsored content for brands and products that she's tested and loves. "People change. I got older, started focusing on the environment, and decided I didn't want to contribute to the problem anymore. It has no deeper meaning than that. I'm not doing this to get a pat on the back. But I do hope it sends a positive message, sparking my followers to notice where they create waste and thinking about what they can do differently."