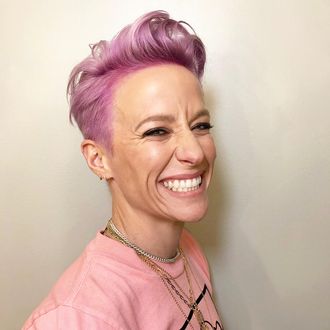 Megan Rapinoe.
Photo: Riawna Capri
Megan Rapinoe, star midfileder and best part of this year's 2019 Women's World Cup, is the gift that keeps on giving. This time, she's bestowed a brand-new hair color upon the world and it's called Rapinkoe. Rapinkoe is a very specific shade of pink, and it was created by Nine Zero One's Riawna Capri and Joey Perrotti, and Rapinoe's hair.
According to Capri, it all started when Perrotti bleached and toned Rapinoe's hair to freshen up her roots, then came Capri with the pink. "I wanted to give her more of a shadow root with the pink so it had more depth and dimension and then we kept it lighter on the ends," she explained in a release. And just like that, Rapinkoe was born.
Rapinkoe pink has a tinge of purple to it, making it punchier than all the millennial pink we've become accustomed to. If you're considering taking Rapinkoe for a whirl, you may want to create a mood board to take to your colorist. I'd suggest pinning things like Frenchy with her Beauty School Dropout hair, some shots of Pink Panther (the actual cartoon panther, not Steve Martin), and a Pepto Bismol bottle or two, in addition to pictures of Rapinoe. If you want to get her exact style as well, ask your stylist to go tight on the edges and keep the top long for texture, just as Capri did.
This brand-new hair color comes to us during a truly inspiring time, as just last week, Beyoncé discovered a brand new way to wear braids. Can't wait to see what next week has in store.