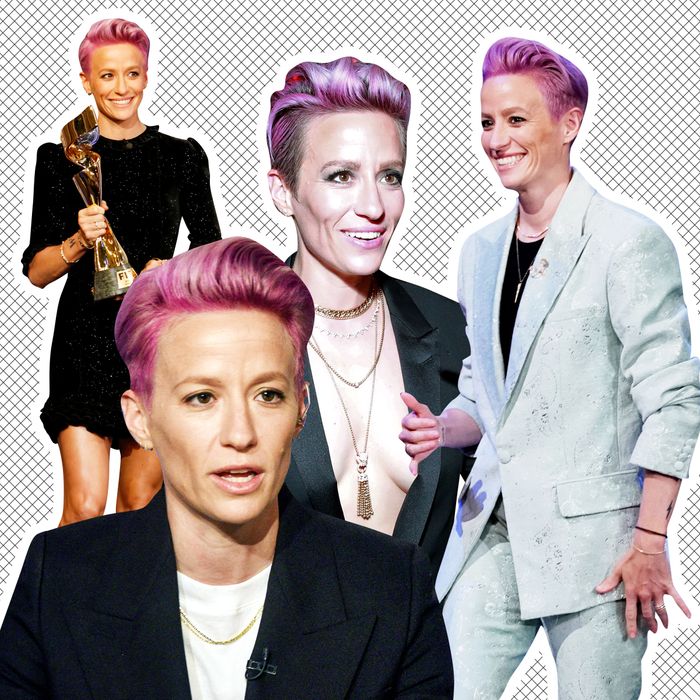 Megan Rapinoe.
Photo: Getty Images
In addition to being a world-class athlete, fearless activist, and objectively hot person, U.S. Women's National Soccer Team captain Megan Rapinoe is also a damn good dresser. Since winning the World Cup this summer, she's made additional headlines for wearing one jaw-dropping suit after another, and basically reinventing the color pink — fashion choices that may seem at odds, but she makes them look natural. In June, Rapinoe and three of her teammates also launched their own lifestyle brand, Re-inc, which focuses on gender-neutral apparel.
Clearly, Rapinoe is interested in expressing herself through clothing, but she's also busy winning World Cups, which is where stylist Karla Welch comes in. Welch, who works with everyone from Tracee Ellis Ross to Justin Bieber, is something of a suit whisperer herself, so the match was a win-win for everyone involved. Below, Welch explains to the Cut how her relationship with Rapinoe began.
Is Megan the first athlete you've worked with?
Is she? Oh my God, I don't even know. I think so? Justin [Bieber] is a bit of an athlete.
When did you start working with together?
I've always loved the U.S. women's soccer team. Always. Like, since the Mia Hamm days. So I know [Megan] as a soccer player. I remember her assist in the [2011] World Cup to Abby Wambach. But when I saw that video about not going to the White House, I thought, "Oh my God, she's amazing." I started following her [on Instagram], and I guess she was following me. She DM-ed me and we started talking. She was like, "Hey, would you style me for the ESPYs?" This was like, two days before the World Cup finals. And I was like, "Uh, yeah! Of course!" And that's how it went.
Do you recall some of your early conversations with Megan in terms of direction? Did she come to you saying "I want to wear a suit to the ESPYs?" Or did you work together on that?
It was pretty brief. Like, Okay, we get each other. She did say that she wanted to wear a suit. She knew that I like putting my girls in suits. We literally had five minutes to fit her. We had a couple back-and-forths, but you know, she was busy winning the World Cup, so I didn't really want to bother her.
How would you describe her style?
She's just cool and effortless. She's also pretty fearless. She's fearless in all elements of her life.
Is there a message you're trying to convey, or a reasoning behind the suits that you can articulate? 
You know, I just love suits, and she's super into the suits, too. It's pretty organic.
Obviously, there's winning the World Cup, but the team stands for so much right now, in terms of equal pay and what they're fighting for. Her image is important, and I'm sure that you and her have put a lot of thought into that. 
Of course, there's always lots of thought when I'm working with someone, but she and the team have transcended sports. She's already an amazing soccer player, but she became something else when she took a knee. She's on the right side of history, and she's consistently there. Clothing is armor, but she also wore a Vampire's Wife dress and was like, "Oh, this is amazing." I think she's limitless, but there's something powerful about wearing a suit. She's doing it all.
Was that dress something you showed her?
I was like, "Would you ever wear a dress?" and she was like, "Yeah!" She also wore a men's Amiri suit on Seth Meyers.
Have there been any other memorable moments during fittings?
We're still getting to know each other, but we're like-minded people, so it's fun. I think it's just so incredible that the most-famous woman in America is someone who is openly gay, an amazing athlete, and is very outspoken about equality, her political beliefs, and injustice. I think that's progress. So, just I'm thrilled to be on the team!
This interview has been edited and condensed.