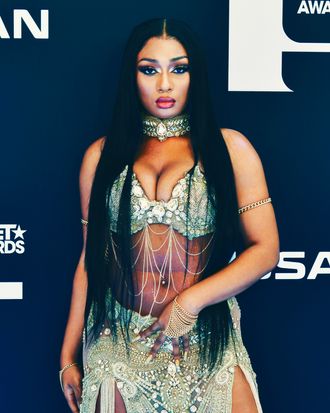 Photo: Rodin Eckenroth/WireImage
Can anyone own Hot Girl Summer? As the term's originator, Megan Thee Stallion certainly deserves to.
Billboard confirmed on Monday that Megan, the rapper who coined the phrase and whose fans (they refer to themselves as "Hotties") spread its fame far and wide, filed to trademark "Hot Girl Summer" on July 10. Upon reflection, signs that she was doing so were there all along.
"Hot Girl Summer" originated in cover art for the 24-year-old rapper's album Fever, which came out in May. It reads, "She's thee hot girl and she's bringing thee heat." In July, Megan delineated her theory of the Hot Girl on Twitter, writing, "Being a Hot Girl is about being unapologetically YOU, having fun, being confident, living YOUR truth, being the life of the party etc." The term is meant to be non-gendered. The hashtag #hotgirlsummer has since taken on a life of its own; it can describe anything from a bikini or gym selfie to binging Fleabag alone with a $6 bottle of wine. It has been used more than 100,000 times on Instagram.
In a cash-flow sense, it's about damn time Megan took action. The catchphrase has already been appropriated for advertorial purposes by Wendy's, Forever 21, Maybelline, and, somehow, the language-acquisition app Duolingo, which goes to show the remarkable versatility of the phrase. According to Billboard, Megan would use the trademark to cover merchandise — specifically hoodies, T-shirts, and sportswear.
If the inaugural Hot Girl Summer Wars result in a sports bra that's supportive while not cutting off my air supply, more power to them.