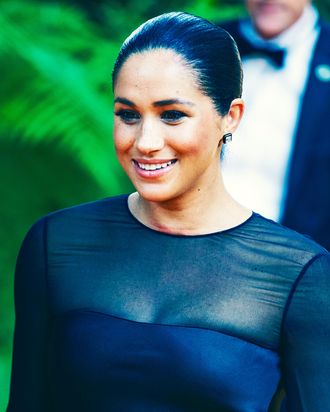 Photo: Mark Cuthbert/UK Press via Getty Images
By this point in summer, most of the British royals have shuffled off to various estates to spend the rest of the season in repose. (Hard to imagine Queen Elizabeth under an umbrella with a frozen daiquiri at Balmoral in Scotland, but do try.) But over in fashion land, late July/early August signals the buzz that the still massively important September issues are about to land. Last night, British Vogue broke theirs: a special edition guest-edited by Her Royal Highness Meghan Markle, the Duchess of Sussex. It marks the first time a guest editor has worked on the September issue in the magazine's 103-year history.
While the issue won't hit stands until later this week — and it's unclear when Americans will be able to get their hands on it — many details are already available. The theme is "Forces for Change" and the cover showcases 15 influential advocates, actresses, activists, and politicians. Toward the middle of the grid is what appears to be a shiny silver square so that the beholder's face appears among the powerful.
Missing from the collage is the face of Markle herself, and you'd be forgiven your disappointment for not getting a glam portrait of the duchess by legendary fashion photographer Peter Lindbergh, who shot the other images for the package.
In an item discussing their partnership, British Vogue editor-in-chief Edward Enninful explained, "From the very beginning, we talked about the cover — whether she would be on it or not. In the end, she felt that it would be in some ways a 'boastful' thing to do for this particular project." He continued, "She wanted, instead, to focus on the women she admires."
While "boastful" might be an eye-grabbing adjective, it's an appropriate one given the hypercritical way in which the British tabloid media has framed some of Markle's choices in the 20 months since she and Prince Harry first announced their engagement: The dress she wore for her engagement photos was called "opulent, lavish, polarizing" by the Independent; her behavior around her New York City baby shower in February was compared to that of Marie Antoinette in the Daily Mail; the Sussexes' new offices at Buckingham Palace are reportedly so "lavish" that employees are "annoyed, grumpy" per the Sun. While the tabs have a long-standing commitment to scrutinize every pedicure of the royals, the attention on Markle has seemed particularly relentless, and very often racist.
Though Markle's partnership with British Vogue is the first of its kind, the House of Windsor has a longstanding relationship with the publication. Kate Middleton appeared on a 2016 cover for the magazine's centennial, and last September, Princesses Beatrice and Eugenie had a sisters' spread. Princess Diana also famously posed for a 1990 cover in a white dress and a tiara.