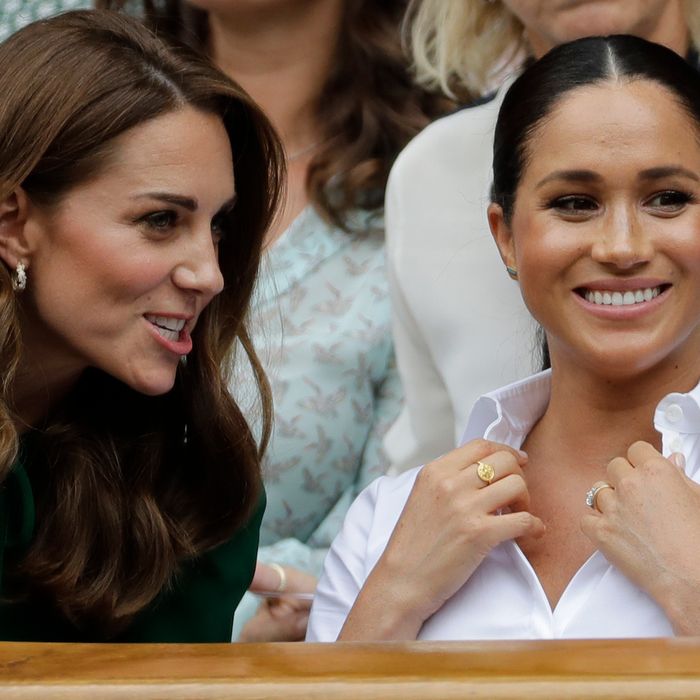 Photo: BEN CURTIS/AFP/Getty Images
Meghan Markle and Kate Middleton attended Wimbledon together in what might be shaping up to be an annual tradition for the royal sister-in-laws. Their appearance at the tournament in 2018 had marked the first-ever joint public outing for the two duchesses.
While Markle and Middleton have attended matches at this year's Wimbledon tournament separately, they reunited in time to witness the final match between Selena Williams and Romania's Simona Halep in the Ladies' Singles Final. Williams, a longtime friend of Markle's, ended up losing to Halep despite a victory over Czech tennis player Barbora Strýcová during the semifinals.
According to Harper's Bazaar, Markle, the Duchess of Sussex, wore a white collared shirt by Givenchy and paired it with a white and blue pleated skirt by Hugo Boss featuring a graphic design. She accessorized with a Stella McCartney purse, a gold Pippa Small ring, Jennifer Meyer earrings, and sunglasses by Le Specs, as fashion blog Meghan's Mirror reports. Her hair was pulled back in a sleek ponytail.
Meanwhile, her sister-in-law, the Duchess of Cambridge, opted for a gorgeous green dress with slightly puffed sleeves and gold buttons. The look was custom Dolce & Gabbana and has been seen on the royal before. She also carried a Dolce & Gabbana handbag and wore Ray-Ban sunglasses. Kate's sister, Pippa Middleton-Matthews, was also at the event, wearing a ruffled blue-and-white dress from Anna Mason London.
Over the past year, rumors of an alleged feud between Markle and Middleton plagued the royal family, even prompting Kensington Palace to publicly issue a denial of the speculations at one point. I'm sorry, but if I were feuding with someone, the last place I'd want to be is sitting next to them for hours at a sporting event.
See you at the next Wimbledon, sisters!