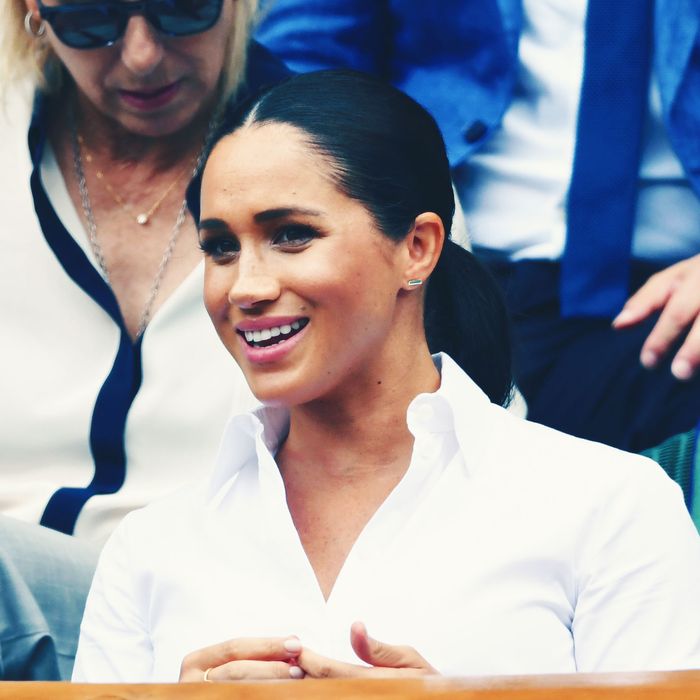 Meghan Markle.
Photo: Karwai Tang/Getty Images
In the midst of editing British Vogue and meeting Beyoncé, Meghan Markle has dressed like your average coastal millennial twice. The first time, she wore a shapeless linen caftan to a polo match. And the second time, she wore an Everlane jumpsuit to a shoot for British Vogue. Sure, the occasions to which she wore these outfits may not be relatable, but the style choices are. Her issue of the magazine spotlights "Forces for Change," including climate activist Greta Thunberg, New Zealand prime minister Jacinda Ardern, and Jane Fonda. She herself was not shot for the cover because she thought it would be "boastful" to do so. She did interview Michelle Obama, though, because who would pass up that opportunity.
Markle is only in a few seconds of the clip on Instagram, but is shown standing with editor Edward Enninful. Meghan's Mirror, the go-to site for anything involving Markle fashion choices, IDed the jumpsuit she's seen wearing in the British Vogue video as Everlane's new GoWeave jumpsuit. A "special source" confirmed that it was, indeed, the same $120 jumpsuit us commoners at the Cut reviewed. Lisa Ryan wrote, "I feel like this jumpsuit is designed to work for taller people, or those who have access to a tailor." You know who does have access to a tailor? Meghan.
The jumpsuit is still available from Everlane in sizes 00 to 16 and in three colors. But knowing how quickly things go once Meghan wears them, act quick.
Available in sizes 00 to 16.
If you buy something through our links, New York may earn an affiliate commission.