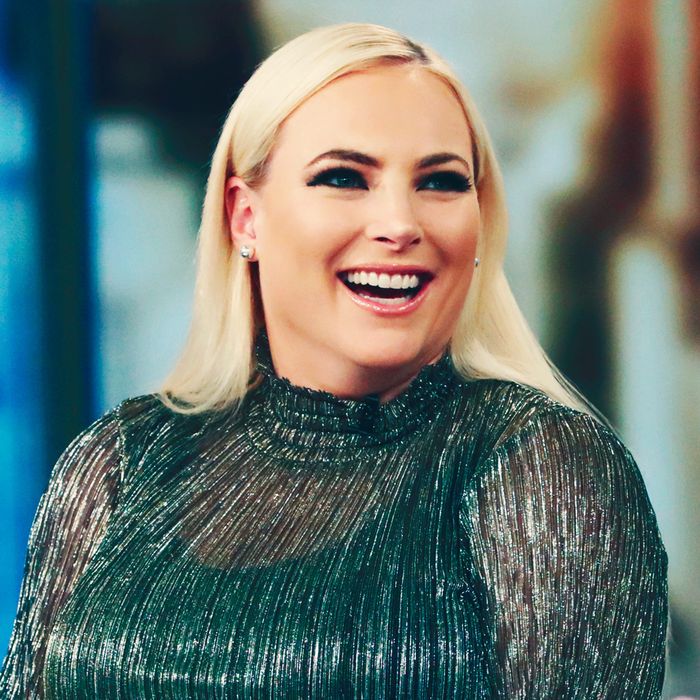 Meghan McCain.
Photo: Lou Rocco/Walt Disney Television via Getty
After two years of shouting at people at the long, silver space desk, political commentator and noted daughter Meghan McCain is feeling "exhausted and defeated" and is considering leaving The View, the Daily Beast reports.
Sources close to the show's resident conservative say that she is "emotionally drained, angry, and isolated," and "feeling like a caged animal" as a result of all of the negative publicity surrounding her bad opinions (among them: defending the Trump administration's inhumane immigration policy; opposing abortion; suggesting that she, a white Christian woman, was a victim of anti-Semitism; and repugnantly trying to link the April attack on the Chabad of Poway synagogue in San Diego with Minnesota representative Ilhan Omar's comments about the outsized influence of pro-Israel lobbyists.)
"It's getting to the point where it's not worth the emotional toll every week," one of the sources told the Daily Beast.
In a decidedly lukewarm statement, The View's senior executive producer Hilary Estey McLoughlin said, "We don't want people to attack Meghan. We're happy to have Meghan there," adding, "I think she does want to be there. I think she wants to be on the show. She realizes it's a very good platform for her and we love having her there. I feel like she will come back."
McCain, Loughlin explained, is just so "passionate about what she's talking about" that it becomes very draining.
As for why McCain doesn't fit in on the show, one person close to her explained that, and I'm paraphrasing here, Meghan just isn't like other girls, because she swears a lot, and her father former Arizona senator John McCain "raised her like a guy," and instead of going to the Hamptons, she likes going home to Arizona, "hanging out in the creek and doing Jell-O shots and shooting guns." (McCain attended Columbia University and has lived mostly in New York and L.A. since then.)
McCain has not yet responded to the story, or confirmed whether she will return to The View in September. If she doesn't, it surely won't be long until she finds another brightly lit studio in which to shout.