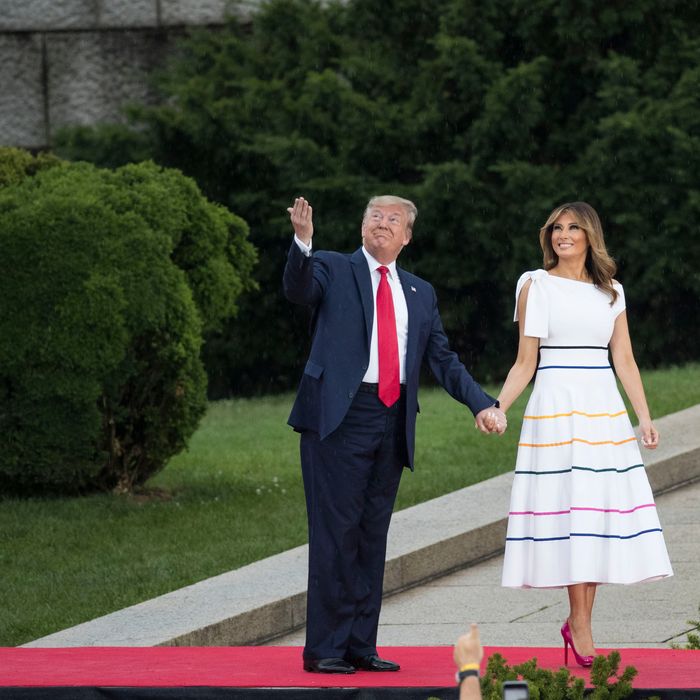 What does the First Lady's dress mean?
Photo: Sarah Silbiger/Getty Images
Donald Trump's military muscle flex, I mean totally regular Fourth of July parade, was an unrelenting spectacle of tanks and star-spangled banners. The president and vice president dressed to match the cacophony of American flags, in navy-blue suits with red power ties; Second Lady Karen "Mother" Pence draped some red-white-and-blue bunting around her neck. First Lady Melania Trump went her own way, though, opting to wear a white, rainbow-striped dress and bright fuschia heels, four days after Pride month wrapped.
It's an interesting choice for an aggressively patriotic occasion, and a definite departure from the dress code. What do you think it means?
Some onlookers read the dress, an off-one-shoulder number by Carolina Herrera, as a possible rebuke of her husband's anti-LGBTQ policies. Which … maybe? Hard maybe.
As the New York Times points out, Melania has selected similar designs — a rainbow-striped Mary Katrantzou design worn to the 2017 White House congressional picnic, which just happened to coincide with New York City's pride parade weekend — at seemingly significant moments, suggesting possible support for an agenda that diverges from her husband's. However! Remember that Zara jacket splashed with a deafening message — "I really don't care, do u?" — she chose to visit migrant children being detained in prison-like conditions? The one her camp initially defended as just a standard, meaningless jacket, and she later described as a message "for the people and the left-wing media that were criticizing me." It's tempting to read her subdued, nontraditional First Lady presence as subtle rebellion, but then again, her public-facing opinions tend to align with her husband's.
So: Sartorial symbolism meant to distance herself from her husband's administration, or simply a dress? We may never know.