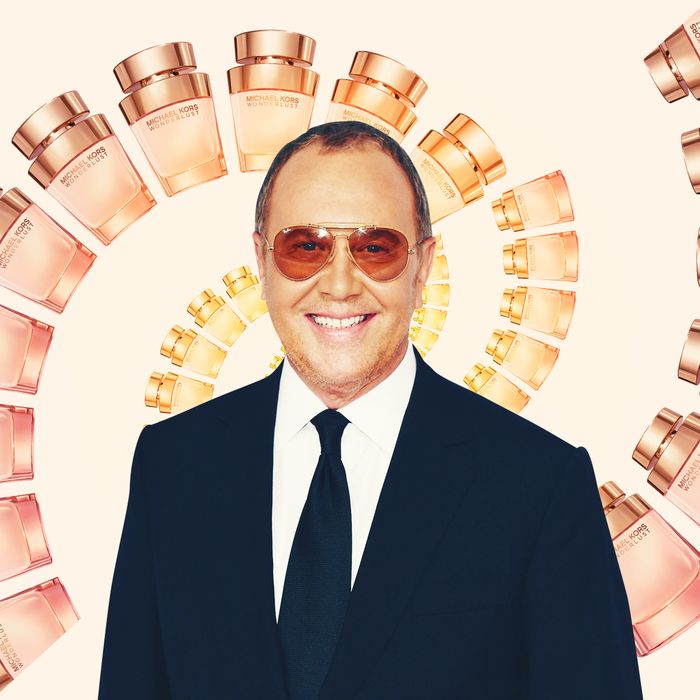 Call it the Proust effect: Memories are often triggered by smells. Scientific studies confirm that, of all the senses, smell offers the best recall. In Scent Memories, the Cut asks people about the scents they associate with different times in their lives. Next up is designer Michael Kors, who launched his newest scent, Wonderlust, this month, complete with a new campaign starring Gigi Hadid. It's a warm and spicy mix of Italian bergamot, Sicilian mandarin, almond cream, jasmine, and pink peppercorn. The Cut caught up with the designer to talk pizza, green juice, and that new-car smell.
My first scent memory is: My mom wore Youth Dew by Estée Lauder, and whenever I smell it, I feel like I'm a kid again.
Happiness smells like: I always think of happiness as this sense of optimism and positivity, and to me, gardenias embody that. They make me feel like I'm at the prom, in the best way possible.
Love smells like: When I was a teenager, everything I wore was musk. Musk, musk, and more musk. So, I think that initial teenage love was definitely attached to musk and it still is for me.
Friendship smells like: This may sound crazy, but I think it smells like pizza. I love the smell of pizza, sure, but you always have a group of people grabbing a slice of pizza together. It's this communal, joyous meal. If I'm good, it's just gonna be mushroom pepper, but if I'm really feeling a friendship moment, it's going to be pepperoni, let's be honest.
Heartbreak or loss smells like: Salty tears.
Regret smells like: The awful smell of skunkiness. A skunk.
Success smells like: Beautiful leather interiors in a new car.
A pleasant surprise smells like: I don't particularly like surprises, so everyone in my life tries to surprise me. But if I had to pick, it'd probably be birthday cake.
The worst smell is: New York City before all the garbage sitting on the street is picked up on a Sunday night.
Vacation smells like: Jasmine.
Sunday morning smells like: Coffee, bacon, and a real newspaper.
Monday morning smells like: Unfortunately, green juice.
My home smells like: In the city, Diptyque Baies candle, and at the beach, fresh air.
If I could have one smell on my hands forever, it would be: Lemon.
I smell like: Citrus!
f you buy something through our links, New York may earn an affiliate commission.