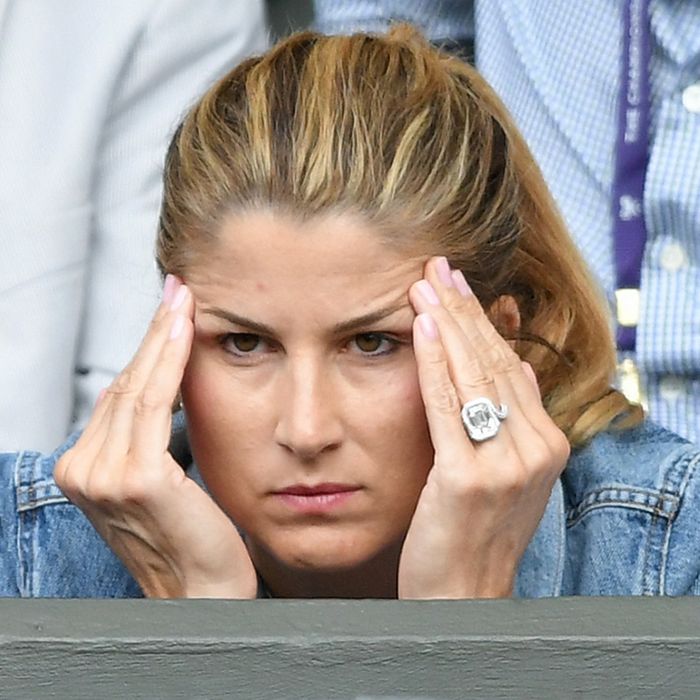 Photo: Karwai Tang/Getty Images
Watching sports tournament finals can be nerve-racking for onlookers, but even more so if you're married to one of the players. Before the end to a gripping match between Swiss tennis player Roger Federer and Serbia's Novak Djokovic at the Wimbledon men's final, Federer's wife, Mirka, showed no restraint in her emotions. For the duration of the almost two-week long tournament, Mirka has been cheering her husband from the stands. But, truth be told, the lady has been stressing. Seeing these photos of her stressing out make me feel stressed!
At least they will all make great memes! Is she watching the match or is this just all of us thinking about the state of the world today?
When everyone is having fun around you, but you've just been overcome with anxiety that you left your flat iron on at home:
Contagious stress:
Quick moment to say hello to Anna Wintour:
Stressed out in 2018:
So much photoshop in those lenses waiting to happen:
At least fans of Federer are able to relate to how Mirka feels. She also has an Instagram fan page!
After nearly five hours of white-knuckling tension, the men's final match ended with Federer losing to Djokovic. If Federer had been victorious, this would have been the 37-year-old's 21st Grand Slam win. In his post-match interview, Federer joked about his family's response to the loss. "They won't be happy with that plate," he said, in regards to his runner-up trophy. "They'd rather that golden thing. But it's nice to see them. They had a great week here."
"Great" week? Take this woman on a vacation!