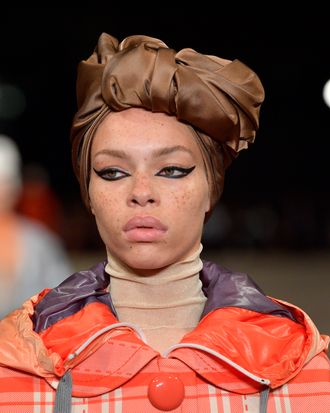 Photo: Slaven Vlasic/2017 Getty Images
Carissa Pinkston, a model who has worked for clients like Savage x Fenty, Marc Jacobs, and Prabal Gurung, lied about being transgender to deflect from transphobic comments she made that got her fired from her agency.
Last week, Facebook posts that Pinkston had written in May began circulating on Twitter. The posts read, "Being Transgender does NOT make you a Woman. It makes you simply transgender," and, "Being Transgender does not make you a woman in a Transgender context according to gender and sex. This is how they want to be perceived. In a biological context there are Females and Males. This is the world in 2019."
After the posts made their rounds online, Pinkston was fired from her agency. As PAPER reports, Pinkston then posted a statement on Instagram saying she was actually trans herself.
"I wasn't ready to come about it yet but today I got fired and I've been receiving hate mail and death threats ever since so I'm being forced to tell the truth," she wrote in the post. "I'm Transgender. I transitioned at a very young age and I've lived my Life as a female ever since. It's been very hard to keep this secret but what I said about Trans-Women is a direct reflection of my inner securities and I have since come to realize that I am a Woman. WE ALL ARE!"
Soon after, Pinkston was called out from people who knew her personally, including fellow model Aleece Wilson, saying Pinkston was lying about being trans. "It's terrible and disgusting that you're lying to thousands of people … That clout shit is said," Wilson wrote. Trans model Aaron Philip also called out Pinkston:
Pinkston then took to Instagram to apologize for her transphobic comments. "I panicked and I thought if I came out as Trans that I could somehow make things better for myself but it appears I've only made things worse," she wrote. "I'm truly sorry. I'm only 20 and I'm human. I make mistakes but I refuse to let them define me. I hope you all can forgive me and move on from this because I'm so much more than this incident and I'm not a coward."
She also posted photos of herself with Euphoria actress Hunter Schafer. "I been friends with Hunter way before all these comments and now she won't even talk to me," she wrote.
It seemed to have got even weirder:
Last year, Pinkston had been lauded by Vogue as a trailblazer of the "freckle movement." Her posts as well as her Instagram appear to have been deleted.