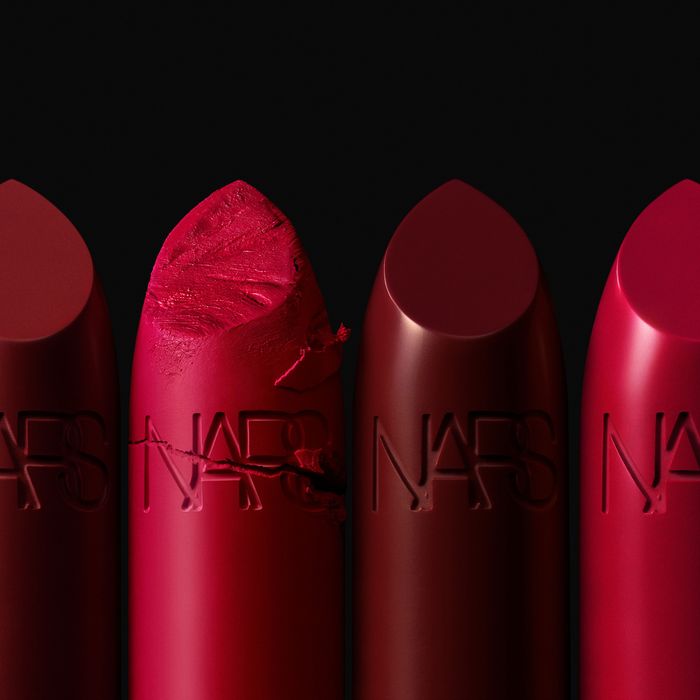 Congratulations to Nars Cosmetics on its 25th birthday, but no need to send gifts. In true Leo spirit, the brand is generously giving us all a present instead: There will soon be 72 new lipsticks for us all to play with.
François Nars, brand founder and owner of a Tahitian island, will be relaunching the original 12 Nars shades, plus 60 new ones in matte, satin, and sheer, with a more vibrant and moisturizing formula. Yes, these lipsticks will replace the existing ones seen in stores. Many of your favorite shades — like Schiap, Dolce Vita, and Roman Holiday — will remain. But you'll also be getting new ones like Candy Stripper and Sex Shuffle, all out July 29. The Cut talked to Nars about celebrating the brand's anniversary, the meaning behind some of his new shade names, and the exact recipe for a hit product.
When you launched your original line 25 years ago, why did you start with lipsticks?
First and frankly, the lack of money. [Laughs.] It was really a test. I wanted to see how people would respond if I were to launch a product line. It was very tough to put money together to even produce the 12. Before I jumped into a whole makeup line, I wanted to see how the public responded to lipsticks. Maybe it would be ignored or it would be a success.
It worked out perfectly because it was the right way to test the idea. In making it myself, I could create the texture and formula that I really wanted. I picked colors I really loved, the perfect reds, beiges, and perfect pale pinks.
It was very easy. I worked with the chemist. They would come back with different formulas. I would say, "No, this beige isn't exactly what I want." We still work like this today.
What do you think made the lipsticks such a big hit?
Fifty percent the packaging, 50 percent the product. No one can tell me differently. Customers reacted well to both. My name was all over the pages of American Vogue and women knew my name through that, I think.
Was it ever your dream to have a makeup line?
Not at all. I'll be very honest with you, for the first 20 years of my life as a makeup artist I never thought about doing one. I didn't focus on it at all because I was so busy doing makeup. It came about very slowly.
It was also a different time back then. Back then, there were only the big names — Chanel, Dior. I was a kid and quite humble. I never thought, My name will be next to those people one day. 
When you create colors, how do you explain what you want?
It's called instinct. Attraction. Taste. And inspiration. It's like a painter. I'm attracted to certain shades and colors. In the back of my mind, I'm also always thinking about women. Are they going to love this? It's about giving them multiple choices, because there isn't just one. It's a puzzle.
Let's talk about some of these names, like Inappropriate Red. Where did that come from?
I want the names to be fun. I want things that aren't necessarily always politically correct even though we have to be very careful today. In life, you have to keep a sense of humor, so long as it's not offensive to communities and to people. This name is about being voyeuristic; there's a lot of humor in being a "bad girl." Sometimes it's good for a woman to be bad. Even if it's inappropriate, you just have to go with it.
What about Full Time Female?
I'm not going to describe every name. [Laughs.] A lot of the names are inspired by movies and actresses. They sound right to the ear, and they call out to you. A shade name that's different makes it memorable, rather than calling something "red." Like Inappropriate Red — that sticks with you. You always remember more of a product when the name on top of it is great. It gives the product more identity and weight.
Do you still name all the colors yourself?
Yes, but I do have people looking at different things. Sometimes I'll say, "Give me the names of rivers all over the world." We need so many names now. We need more and more because we are coming out with things every two months. But people help to point me in the right direction and clear names that aren't being used. But usually, I'm the one who makes the final call.
It was not as difficult when I started 25 years ago. Then we got followed and copied and now it's a challenge. But we always find new ones.