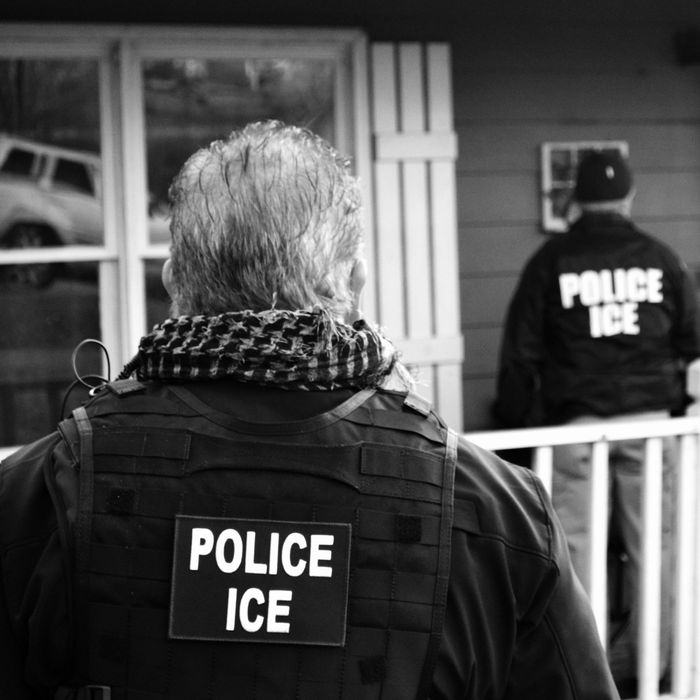 ICE agents.
Photo: Handout/Getty Images
In a moving display of solidarity, a group of people in Tennessee formed a human chain around a man and his 12-year-old son to protect them from ICE agents who were attempting to take the father into custody, Nashville's WTFV reports.
On Monday morning, a man and his son had just entered their van, which was parked in their driveway, when a car containing two U.S. Immigration and Customs Enforcement agents blocked them in. Presumably scared, the father and son stayed in the car, which was wise: While WTFV reports that the ICE agents had an administrative warrant, which would've legally permitted them to detain the man, they cannot forcibly remove someone from their home or car. For hours, though, the ICE agents didn't budge, leaving the man and his son trapped.
"There were two immigration officials sort of bullying a family inside of their own vehicle, telling them that they had an administrative warrant, which isn't the same thing as a judicial warrant, and trying to harass them and fear them into coming out," Daniel Ayoadeyoon, a local lawyer who watched the incident unfold, told WTVF. "They were saying, 'If you don't come out, we're going to arrest you, we're going to arrest your 12-year-old son,' and that's just not legal, it's not the right law."
During the standoff, the man's neighbors in Hermitage, Tennessee, started to take notice of the menacing scene; some people started to take videos and post them to Facebook, while others made sure the two had adequate food, water, wet rags to stay cool, and gasoline to keep the van running. Then, after the two had been in the car for four hours, a group formed a human chain around the vehicle, which they used to protect the man and his son as they ran back into their home.
Following the standoff, ICE issued a statement to WTVF, informing them "no at-large ICE arrests happened [on Monday] in Nashville."
The statement continued: "That said, in general, ICE conducts targeted enforcement of federal immigration law on a daily basis in accordance with our routine, ongoing operations. ICE continues to focus its enforcement efforts on criminal offenders as nearly 90 percent of persons arrested for violation of federal immigration law during the past year also had either a prior criminal conviction or a pending criminal charge."
Though there are no reports suggesting that the man targeted by ICE had violated any law, this incident comes just a week after immigration authorities across the country launched a series of widespread raids, focusing on families with court-ordered removals. (Per CNN, only 35 of the 2,000 migrants targeted were arrested.) In a statement from Metro Nashville police, who showed up on the scene but did not intervene, authorities said that ICE was "attempting to serve a detainer" on the man. While the agency claims that detainers, also known as "immigration holds," are essential for deporting those who aren't legally authorized to be in the country, the American Civil Liberties Union says the agency uses them to "imprison people without due process and, in many cases, without any charges pending or probable cause of any violation."
As of now, the man and his son are safe, but neighbors anticipate that ICE will return. In an interview with WZTV, Felishadae Young, who was on the scene on Monday, said the incident "changed a lot about how [she feels] about this country." And, if and when agents return, she says she'll be among the community members who'll fight back against the federal deportation system.
"I know they're gonna come back," she said. "And when they come back, we're coming back."