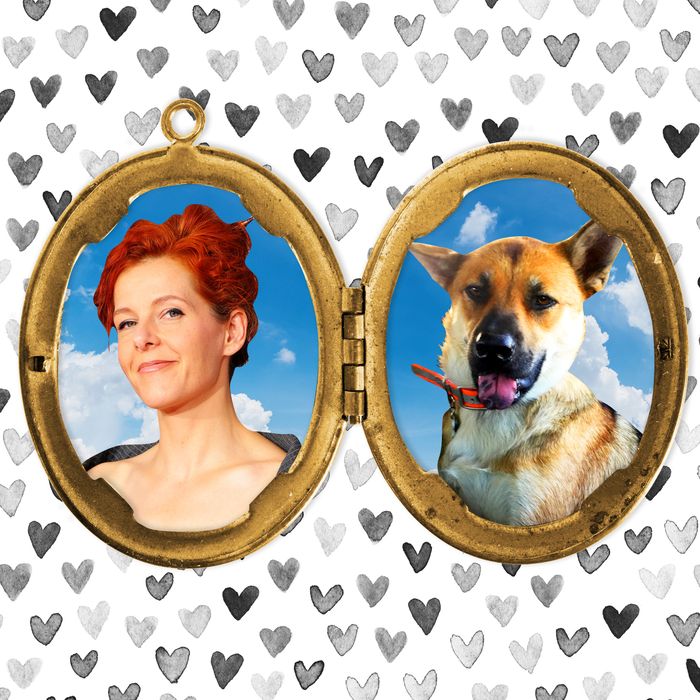 Photo-Illustration: by Preeti Kinha; Photos: Getty, Neko Case
Neko Case is a songwriter, musician, animal lover, and member of the indie rock supergroup the New Pornographers. She released her seventh solo album Hell-On in 2018. While recording the album, her home in Vermont burned to the ground — this inspired Hell-On's art. (She was recording in Sweden at the time, and all of her animals and loved ones got out unscathed.) She also performed on the latest New Pornographers album, Whiteout Conditions, which was released in 2017. She has three dogs, three cats, and two horses. Can she tell you about her dog, Bruce?
On meeting Bruce: 
I have a lot of friends who have animal rescues, and I was looking to get a kitten. So I called a friend of mine, and she said she had some kittens coming in from a shelter, so I thought, Great, I'll take two kittens, that will be wonderful.
When I went to meet the kittens my friend had some puppies with her because she also adopts out dogs. I've always said I would never get a puppy because puppies are easy to adopt out; they're gonna be fine — I always go for the older dogs that people don't want. But Bruce the puppy was there, and I had recently lost my elderly shepherd Liza, a black shepherd malamute, and this puppy just had a weird, quiet way about him that was very much like Liza. I wasn't trying to replace Liza, but we just had a connection. So I asked if I could adopt him, and my friend knew I was solvent and good for it, so she said yes.
Bruce came from South Carolina, where he and his mom had wandered onto someone's property and were both shot. His mom was killed, and he was shot in the foot and was sent to a shelter and luckily got medical care. He's very tender. I thought he might get really big — he definitely has some shepherd in him, but he's mostly some sort of chow-style dog, and he looks Akita — but it turns out he's part Shiba Inu, so he's a medium-size dog.
On Bruce's temperament:
He's a very quiet dog. He's very thoughtful, and he's very gentle. Like, he's not a rambunctious, jumping-up-on-you dog; he's a quiet thinker. And he's a very good snuggler. He's a little nervous, and he's a little shy around people, but only until he gets to know them. He's a good guy.
On Bruce's name: 
He's just really a Bruce. Like a brooding cowboy in a 1960s cologne ad.
On having her animals around while writing and playing music: 
They're around all the time. They don't get in the way. They come to practice. There's a chance Bruce might be on the new New Pornographers record, every now and then going ooo-ooo in the background, like he's singing along. I have to ask Carl [Newman] later this week.
I definitely miss them while on tour really bad. Sometimes I feel really crushed out — just like a crushing, Ugghh, I wish they were here! But people bring their dogs to our sound checks sometimes, and that is really nice. We get to meet people's dogs. And people love to talk about their dogs, so it's just a nice opportunity for all of us to have some of that sweet energy.
On Bruce's heroism during her recent house fire: 
My boyfriend was sleeping on the couch, taking a nap, and Bruce came over a nosed him a bunch — boop, boop, boop — and woke him up. And then he saw that the light was really weird outside. So he looked out and he was like, Holy shit, the barn is majorly on fire. So he had to get one of the dogs out from way under the couch, and Bruce, right after he told him that the house was on fire, went upstairs and got in bed, so he had to get him out of there, too. But the other dog and my cats were like, Yeah, let's get out of here. But Bruce was a hero, and nobody was hurt. I got really lucky that all I lost was a bunch of stuff.
On Bruce's run-in with a porcupine that inspired a T-shirt:
Most dogs think they're pretty tough in the moment, and he decided he was gonna bug a porcupine. It's really that simple. Then he had to go to the emergency room and get all of the quills pulled out. But the thing that really sucked about it was that Joanie, my other dog, took the horrible tragedy to be a time when she should run away. So my poor friend, who was here watching the dogs, had to go look for her and then take Bruce to the emergency room. So it was like a big, stressful pain in the ass. 'Cause they're naughty. [Editor's note: They found Joanie.] Bruce hasn't gotten into a porcupine since, but whether or not he's learned from that experience I've yet to find out. We shall see.
On the best thing about taking care of animals: 
You can't get so inside yourself that you forget there are other creatures who really need you. You're important, no matter what happens. No matter how you feel. And on a selfish level, just coming home, it doesn't matter what happened that day, no matter who's mad at you, and no matter what's going on, no matter what you're going through, there's someone there who's stoked to see you. And it has a real effect. No matter if anyone thinks it's just a small thing that they barely notice, it's so real. And it makes such a difference.