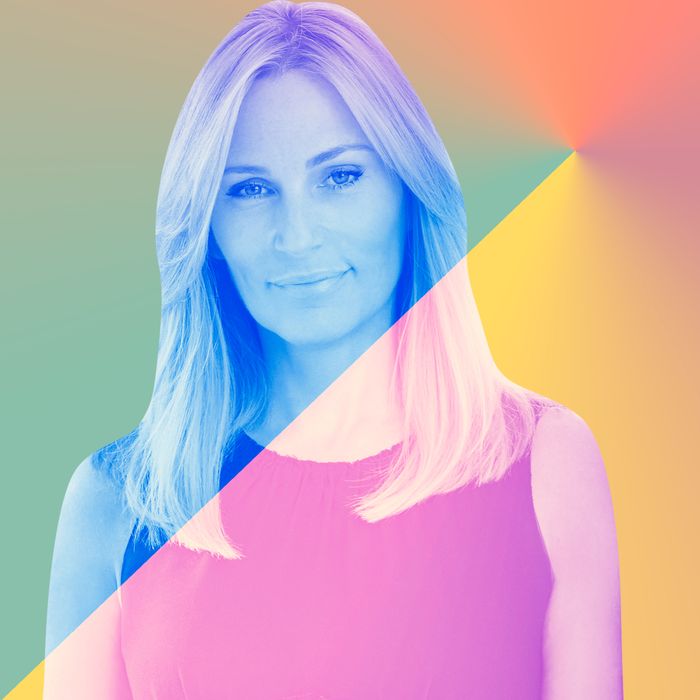 Photo: Courtesy of Net-a-Porter
When Newby Hands was a junior fashion editor at the Daily Mail, she was on her way to an interview when she passed an armed robbery taking place. She kept going, and when her boss found out she hadn't stopped, he gave her a talking-to she never forgot.
"He said, 'You're not a fashion writer, you're a journalist, and if I chose to, I can send you to cover a war,'" remembers Hands. "The Gulf War started not long after, and I was petrified I was going to be sent off!" she remembers. "But it always stuck with me that it was irrelevant that I was young, or a woman. I was, first and foremost a journalist. It instilled a really strong belief that I could do anything. Not doing anything was the way to get screamed at."
Hands is no longer a journalist, but she taps into the same mindset in her current job as global beauty director at Net-a-Porter. There, she's tasked with discovering new gems and curating existing luxury brands for an audience of demanding, savvy consumers.
Hands, whose given name really is Newby (an appellation her older brothers bestowed when she was a "newborn"), skipped university as a sign of mild protest against becoming the Oxford professor that her father was. Her first job was as a buying assistant at Harrod's, followed by a quick dip in the music business, after which came the Daily Mail, then Harper's Bazaar.
She decided she'd had enough of the then-posh world of publishing, and in 2012 joined a beauty commerce site, Feel Unique.
"What I find fascinating is the reality of beauty, not the fantasy of it," says Hands. "I love the business of beauty, seeing what women really buy, love the data. I love seeing the sales, figuring out what moves and why."
Three years later, she became beauty director of PORTER magazine, but within months moved over to the commerce side, which at the time carried only a few dozen brands. Today, it's 230, including Dr. Nigma Talib and Lixirskin, recent additions that Hands is particularly proud of wrangling ("Both female founders with a great story"). She divides her time between poring over data and editing product launches, and she loves testing new items, her legs often filling in as beneficiaries since a face has only so much room.
"I use a lot of face creams on my arms and legs. It's a good place to see the results, because the skin there is not so good," she says. "I've used up some really expensive retinols on my legs and arms at night. They look much better this summer, I can tell you."
Hands spoke with the Cut about her love of face oils, why she never wears deodorant, and what she really wants out of life.
What's your definition of beauty?
Feeling healthy in mind and body.
What do you think when you hear the term "clean beauty"?
A huge change for the better! The consumer-led movement is literally cleaning up the industry and making brands think about what ingredients they use, how they package the product and how they manufacture. It is certainly not perfect, and some brands claim 'clean' when they are not or see it as smart marketing, but in today's connected world there are few places to hide. Brands have to be upfront and honest.
Where, if anywhere, in your beauty (or life) routine are you not quite that "clean," "green" or "sustainable"?
My food and my home are probably cleaner and greener than my beauty is, but I am converting to a much cleaner routine, mainly because products today are much cleaner and also effective — I like my skin care to actually do something. But I sometimes still use my plastic water bottle. It's so easy and I don't want to drink tap water and I can't lug a glass bottle. We have adopted a more sustainable approach at the office, and it has made me more conscious of my use of plastic.
Please fill in the blank: I think about _____ a lot.
Running. I don't do it, but I think about doing it!
What discontinued product do you mourn?
M.A.C Tropical Mist lipstick — the perfect soft nude that was part of a limited-edition collaboration with Carine Roitfeld. I have half of one left …
What is your morning beauty routine?
It's fast! Dr. Sebagh Foaming Face Wash, Estée Lauder Advanced Night Repair serum, Dr. Barbara Sturm's Hyaluronic Serum, and La Mer face cream in the winter or lotion in the summer. Plus, added serums, masks, sheet masks, peel pads, face rollers or whatever "newness" I am trying out at the moment.
What's the last beauty product you use every night?
This Works Deep Sleep Pillow Spray and Slip's Silk Sleepmask.
Who cuts your hair?
George Northwood.
Who colors it?
Josh Wood.
Facialist?
Sarah Chapman, or someone from her team, at Skinesis Clinic and Yvonne Martin at the Yvonne Martin clinic (they specialize in peels and the most amazing face massages).
Favorite spa:
The Mayr Clinic in Austria is life-, health-, and gut-changing. I don't typically have spa days locally as I get bored too quickly.
What aspect of your beauty routine tends to be neglected?
Most things from the chin down. I am very low maintenance and prefer to use an epilator at home than book a waxing. I also apply my own self-tan.
Mascara of choice:
Charlotte Tilbury Legendary Mascara Volume II.
Base of choice:
I love a stick foundation as they tend to provide more coverage. Hourglass Vanish is always a favorite, and I love Westman Atelier Vital Skin Foundation for that really true-skin finish.
What, if anything, is usually on your lips?
Nude lipstick. I am still looking for "the one."
Facial cleanser of choice:
Any good balm that I can massage on and wipe off with a face cloth. I do love the Omorovicza's Cashmere cleanser.
Fragrance of choice:
Tom Ford Soleil Blanc, in Summer and Winter.
Preferred sunscreen and SPF #:
Skinesis Skin Insurance SPF 30. It has a tint which makes it so easy to wear.
Deodorant of choice:
I rarely use one. I have many problems, but body odor is not one of them.
Bath or shower?
Bath with Aromatherapy Associates Deep Relax Oil and Bamford's organic Pebble Soaps.
Shampoo/Conditioner of choice:
Philip Kingsley for fine hair. It was a revelation for me, as it has stopped my fine hair from looking flat.
Most relied on hairstyling product and/or tool:
My Wet Brush. I even use it for blow drying.
Scented candle of choice:
Scented candles are my obsession; I hoard them, but Diptyque Amber and Jo Malone Red Roses are my favorites.
What was your first beauty product obsession?
Revlon Flex Shampoo. I lived in California for a summer when I was 17 and, coming from rainy Oxfordshire, it just seemed the most glamorous California-girl smell.
Daily carry-all of choice:
Tote, currently in a tan hue from Saint Laurent, but I am thinking a lot about the cream version.
What is your classic uniform?
Usually a Saint Laurent or Theory trouser suit with a classic shirt, or — in total contrast — an Isabel Marant or Zimmerman full, floral dress.
Favorite weekend activity:
I've stopped feeling guilty about doing nothing on weekends, watching a movie in the afternoon or reading. I also love sorting out cupboards, including years and years' worth of beauty products.
What beauty products have you not had the heart to part with?
Remember Tom Ford's original collection for Estée Lauder from 2005? Those giant bronzers in that ridged white casing! And that fragrance range based on the south of France! Sometimes I just take those products out and admire them. I should probably wear white gloves. They could take care of my pension someday.
Any hidden or secret talent or skill you possess?
I have learnt to always trust my gut feeling; it's spookily accurate.
If you could have one ridiculous indulgence, what would it be?
A live-in, on-call masseur.
What was the most recent interesting conversation you had?
I was on a beach clean with La Mer and a local school recently, and the two 10-year-olds I was paired with just astounded me with their passion and knowledge of the ocean, the things we need to be working on to keep our ocean healthy, and how we should be consciously living today. They were engaged, funny, informed and busy — and bossy! Thank God for Gen-Z because they have a lot of work to do.
What makes your skin crawl?
Heights.
What would the name of your autobiography be?
Is She Somebody? No, She's Nobody. It's what a certain supermodel said about me when she was made to wait while I had my Botox top-up before her.
Who would star as you in the film adaptation?
I really have no idea who would play me, probably because I would to hate to have a film made about me!
Favorite smell?
That warm biscuit-y smell on a puppy's head.
Least favorite smell?
Unwashed human in an in-flight cabin.
What do you wish more people knew about what you do?
Don't judge me by my job — away from it I love to rough it, not brush my hair, and get my hands dirty. I don't sit on a sofa drinking celery juice with a sheet mask on my face.
What is always in your fridge?
Face masks, face rollers, and syringes of topical anesthetic — kept on-hand to use pre-laser treatments.
Vice snack (or just vice):
Cadbury's chocolate.
Most impressive dish you make:
Chicken Milanese.
What food would you never eat?
Any internal organs, including the brain.
What do you foresee as the top beauty trends for the remainder of 2019?
Companies playing catch-up on extending foundation shade ranges and cleaning up their ingredients list. It's just not good enough not to do both anymore.
What product in your domain is misunderstood and should be a best seller? Explain why, please!
Face oils. They have been around for a while but women do not seem to love using them. This could be partly because they do not want oily skin, and because many use essential oils and these can cause real problems. But a good, natural oil can do wonders for any skin, leaving it soft, supple, and healthy.
What product is currently your favorite (understanding that this could change all the time)?
I love the Joanna Czech Face Massager, because it works! It lifts and holds the muscles and de-puffs the face. It's great post-flight. I use it over a sheet mask and chilled from the fridge.
If you won the Power Ball tomorrow, what are the first five things you would do? (after, of course, donating the majority of it to your top charities…)
Book a long trip travelling across the U.S., from New York to Los Angeles, and then on to Hawaii.
Rather philosophical, but … what do you want?
Increasingly less, not more.
If you buy something through our links, New York may earn an affiliate commission.