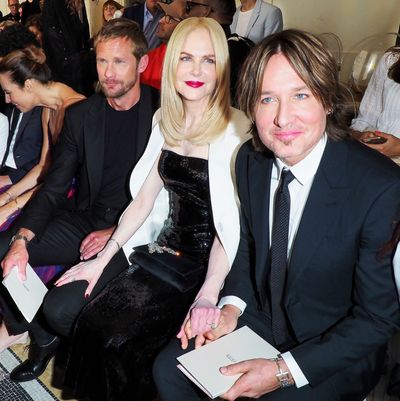 Nicole Kidman, and men.
Photo: SplashNews.com
This summer's hottest look — modeled impeccably here by SPF 100 queen Nicole Kidman in the front row of the Armani show at Couture Week in Paris on Tuesday — is gripping the muscular thighs of two handsome men on either side of you like they're arms of a chair, bits of beefy furniture that exist solely to highlight and facilitate your own beauty and comfort. Magnifique!
In this example, Kidman's support thighs belong to a man she has passionately kissed on live TV, and also her husband, Keith Urban.
It is an elegant, powerful look that says you really can have it all this summer: your real husband and your onscreen husband; the hot dog and the hamburger; clear skin and good credit; your long hair and your bangs; your boyfriend and your second boyfriend.
If you don't happen to have two hunks on-hand to re-create this moment, but you still want to let everyone know that this summer belongs to you, and you alone, you can always take a cue from Céline Dion and bust out your costume from your high-school production of Grease.