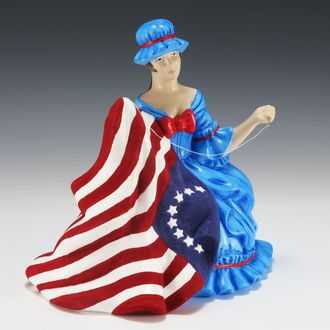 Would you let this woman make you a sneaker?
Photo: Wikimedia Commons
Noted Hypebeast Senator Mitch McConnell has waded into the latest controversy in sneakerdom, opining on the decision by Nike to recall a new model of Air Max this week.
The GOAT power-user was responding to a decision by Nike to recall a sneaker design featuring what's known as the Betsy Ross Flag — in homage to Elizabeth Griscom Ross, d/b/a Betsy, a Colonial upholsterer and entrepreneur who was widely and, generally agreed among historians, apocryphally credited with sewing the first American flag — after private complaints by Colin Kaepernick. The former NFL player and Nike ambassador argued that the 18th-century emblem is associated with an uglier, less egalitarian time in America's past. Kaepernick's intercession was first reported by the Wall Street Journal.
Speaking for an uglier, less egalitarian time in America's past this week, the Senate Majority Leader voiced his support for the flag and the shoe.
"If we're in a political environment where the American flag has become controversial to Americans, I think we've got a problem," McConnell told reporters for the Lexington Herald-Leader. "I hope Nike either releases these shoes or some other shoe maker picks up the flag, puts it on a pair of shoes and starts selling it. I'll make the first order."
Earlier, Doug Ducey, the Republican governor of Arizona, vowed in a Twitter thread to rescind state funding incentives for a Nike plant in his state following the controversy. The company "bowed to the current onslaught of political correctness and historical revisionism," and would suffer the loss of what the Washington Post called a "modest incentive package."
News that your boy Senator McConnell is open to trading in his scuffed Triple S's for a pair of the now-scuttled Air Maxes, tacitly acknowledging that Triple S hype has likely peaked and that the "dad sneaker" trend may be on the wane, was not given much weight on any of the significant sneaker blogs. McConnell and his footwear preference have historically had an entirely negligible impact on the sneaker market.
Reaction to the decision continues to divide America on the eve of Independence Day. Democratic presidential contender Julián Castro said he was "glad to see" Nike pull the shoe, while Donald Trump, Jr., tweeted that perhaps Nike would like to consider a hammer-and-sickle design for a future sneaker.
Mrs. Ross, who died in 1836, was not available for comment. Artists' representations of her tend to spotlight the mobcap, rather than the sneaker, as her preferred accessory.