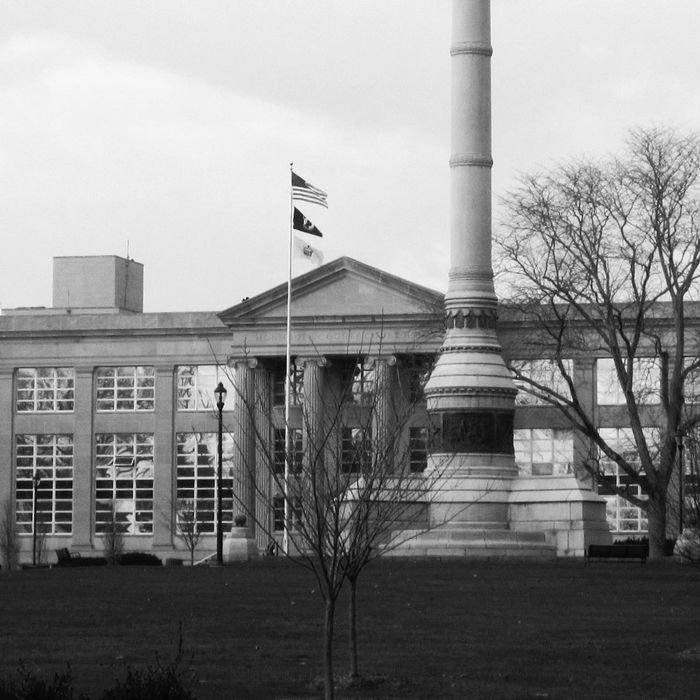 Monmouth County Superior Court.
Photo: Mr. Matté/Wikicommons
Last year, a family court judge ruled that a 16-year-old boy who was accused of rape should be granted leniency because he comes from a "good family" and scores well on tests — even though the boy took a video recording of the alleged assault and sent it to his friends along with a text that read, "When your first time is rape," the New York Times reports.
Although this decision is a year old, it came under new scrutiny in early July, when an appeals court admonished veteran Superior Court Judge James Troiano, in a scathing 14-page ruling, for declining to try the boy as an adult. Outrage mounted after the case was covered widely in the media; on July 17, the New York Times reported that Troiano had officially resigned from the bench following nationwide outcry and calls for his resignation.
According to the initial reporting on the case by the Times, the alleged assault occurred at a high school party in New Jersey, where the boy — identified as "G.M.C." — led a visibly intoxicated 16-year-old-girl — identified as "Mary" — into the basement of the party. There, he filmed himself penetrating her from behind. Per court documents, Mary doesn't remember much of the night, and told her mother that she was concerned that "sexual things had happened at the party." Over the next few months, Mary learned that her suspicions were correct, and that G.M.C. had been sharing the video with his friends. As a result, Mary's mother contacted the authorities to press criminal charges.
In September 2017, the Monmouth County prosecutor's office recommended that [G.M.C.] be tried as an adult, as "his behavior was calculated and cruel." But Troiano didn't see G.M.C. that way; instead, he saw a promising student with his whole life ahead of him, and rejected the prosecutors' suggestion.
"Do I believe that it shows in any way a calculation or cruelty on his part or sophistication or a predatory nature? No, I do not," Troiano said, per the appeals court's ruling. "This young man comes from a good family who put him into an excellent school where he was doing extremely well … He is clearly a candidate for not just college but probably for a good college."
Troiano also argued that the alleged assault was not a "traditional case of rape," as it did not involve a male with a weapon who cornered his victim in an "abandoned" building and "[took] advantage of the person as well as [beat] the person." (Per the Rape, Abuse & Incest National Network, 80 percent of rapes are committed by someone the victim knows, and only 11 percent of sexual assaults involve weapons.)
Over the past few years, cases such as Troiano's have shone a light on how judges grant leniency to accused rapists when they're a privileged young man, and fail sexual-assault survivors as a result. The most infamous example of this is Brock Turner, who was frequently referred to as a "Stanford swimmer" instead of a rapist during his 2016 trial for raping an unconscious woman behind a dumpster, for which he served just three months in jail. Just last December, an ex-frat president at Baylor University who was accused of rape had to pay a mere $400 fine.
Now that the New Jersey appeals court has responded to the judge's ruling, G.M.C. could be tried as an adult in front of a grand jury. (In New Jersey, people as young as 15 who have been accused of serious crimes can be tried as adults.) Meanwhile, in the wake of the backlash over Troiano, the Supreme Court of New Jersey has ordered that judges and judiciary staff must undergo training pertaining to issues of implicit bias, sexual violence, and diversity to "aid them in delivering clear decisions that are rooted in the law, respectful of victims, and understandable to the public while protecting the rights of the accused." Additionally, the Supreme Court announced its intention to begin removal proceedings for Judge John F. Russo, who in May 2016 pointedly asked a woman if she had attempted to "close [her] legs" to prevent an alleged sexual assault.
This post has been updated.