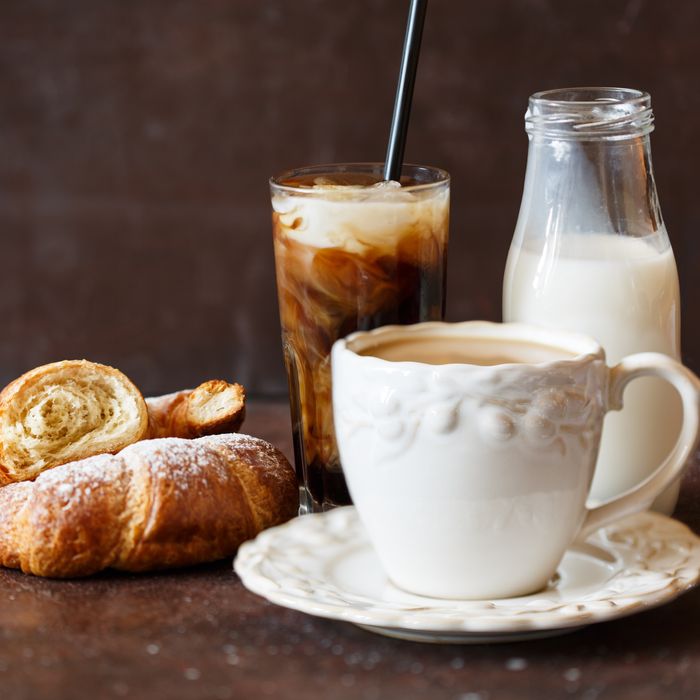 Photo: Lidante/Getty Images/iStockphoto
It's time to say good-bye to our overpriced CBD lattes — a type of drink that never really made sense, given that cannabidiol and caffeine seem to counteract each other, but one that certainly gained a cult following.
Nearly five months after the New York City Department of Health announced that restaurants would soon be prohibited from serving food and beverages containing CBD, the ban has officially gone into effect, Gothamist reports. The reasoning behind the policy does, admittedly, make sense: Despite being infused in everything from brownies to lavender lattes to gummies these days, the oil has not officially been deemed safe for human consumption.
"The U.S. Food and Drug Administration has advised that it is unlawful to add cannabidiol (CBD) to food or drink," the DOH said in a statement. "We have been informing businesses in New York City that may sell food and drink about this regulation to help them achieve compliance."
But many think the policy is a little extreme. Under the ban, health inspectors will now look for CBD-infused products during procedural food-safety inspections; come October 2, those in violation of the ban may be fined between $250 and $600. It's this latter part of the ban — the violations stage, to be rolled out in a few months — that city councilmembers like Health Committee chair Mark Levine consider an overreach.
"DOH abruptly shifted policy on CBD without a clear process or reasoning behind it when it announced the ban," Levine, who is reportedly planning to propose legislation to strike down CBD-related violations, told Gothamist. "The ban should be reconsidered until the Governor makes a decision on the current state bill and give the City Council the opportunity to consider how to move forward with regulation on the City level."
Well, at least we still have our CBD beauty products!