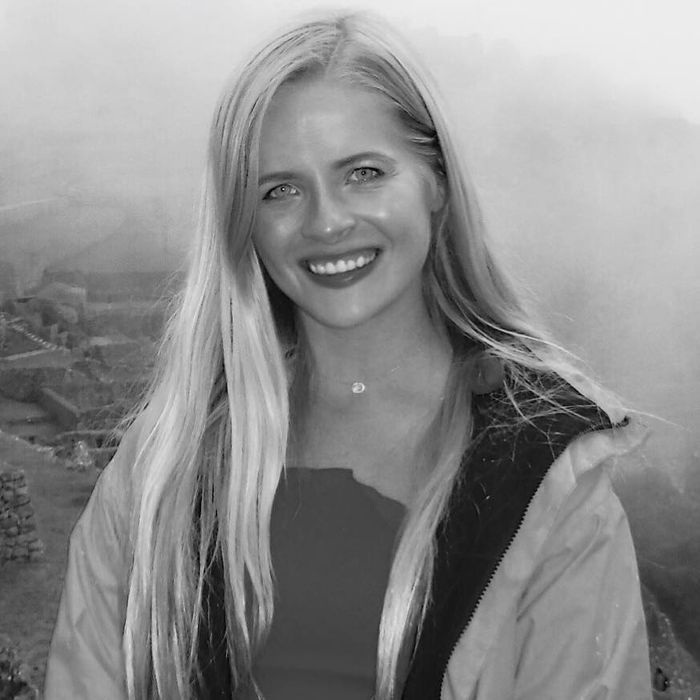 Ally Kostial.
Photo: Facebook
On the evening of July 19, 21-year-old University of Mississippi student Ally Kostial hugged someone, left a bar, and returned to her home by midnight; the next morning, her body was found riddled with bullets about 20 minutes away from campus. While details are still emerging, police have arrested a 22-year-old man in connection with the brutal murder.
Below, here's everything we know so far.
What happened to Ally Kostial?
On July 19, Kostial was caught on surveillance footage near a bar in Oxford, Mississippi, where she had been studying marketing at the University of Mississippi School of Business Administration. In the video, which was captured around 11:50 p.m., Kostial can be seen hugging someone, leaving the bar, and getting into a gray van. According to her roommates who spoke to authorities, Kostial returned home around midnight, WLBT reports. At a later point, though, Kostial left the apartment.
What exactly happened in the hours after she left her apartment is unclear, but at 10:23 a.m. on Saturday, police found her body near a lake in Harmontown, approximately 30 miles from the university. On July 24, the Lafayette County Sheriff's Department revealed that a preliminary autopsy showed that Kostial had died of "multiple gunshot wounds" and that her death had been formally ruled a homicide. (Per WLBT, Kostial was shot eight times.)
Who is the suspect?
On July 22, police arrested 22-year-old Brandon A. Theesfeld, a classmate of Kostial's, in connection with the homicide; two days later, he was charged with murder, and the following day, a motion was filed to hold Theesfeld without bond. According to WREG, Theesfeld's next court hearing has not yet been scheduled, but it will not happen this week. (Theesfeld has been suspended from the university.)
Have police named a motive?
No, but Kostial and Theesfeld definitely knew each other. On July 24, a source who requested anonymity provided to the New York Post two photos of the two with their arms around each other's backs at two events dating back to December 2016. (In one photo, Theesfeld is wearing a sticker with the Greek letters for Alpha Phi, the sorority to which Kostial belonged.)
Furthermore, someone who appears to have been friends with Kostial tweeted that Theesfeld "harassed [Kostial] for years, took advantage of her for years." The tweet continues: "I spent countless nights holding Ally close drying her tears about this monster for years."
One of Theesfeld's former dorm neighbors also shed light on the suspect's alleged relationship with Kostial. In an interview with KMOV, Rex Ravita recalled Theesfeld as a "daddy's boy" who always bragged about his familial wealth and said he and Kostial dated on and off for a few years.
"I truly believe that he manipulated her emotionally to have her believe that he loved her the same way she did, and I think he had her on the hook until the very last second," Ravita said of Theesfeld.
Theesfeld's father, though, maintains that his son did not commit murder.
"I know my son is innocent," Daniel Theesfeld said in a statement, per WLBT. "And I have reasons to believe that I can't share anything now. But I would ask everybody to please give him the presumption of innocence until proven otherwise."
How has the community responded?
In a statement, Ole Miss interim chancellor Larry Sparks extended his "deepest sympathies" to all who knew Kostial.
"Ally was an engaged member of our community with friends across our campus and a promising future," the statement continues. "The university will support the Kostial family in every way we can during this traumatic time."
Furthermore, a GoFundMe has been set up in Kostial's name, raising more than $22,000. Per the website, the funds will go toward funeral costs and to Kostial's family.