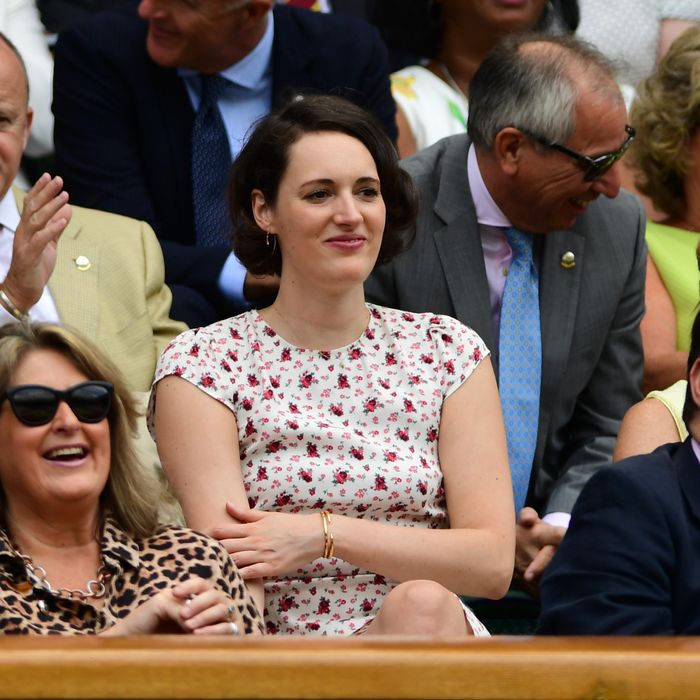 The 'Fleabag' star feels it all.
Photo: Shaun Botterill/Getty Images
Phoebe Waller-Bridge took in some sports today, gracing the Royal Box at the 2019 Wimbledon Championships with her impossibly charming presence. Submerging herself in the tennis experience, the Fleabag creator and popularizer of jumpsuits (and curly bobs, and a very specific red lipstick, for that matter) sprinted through "the full spectrum of human emotion," as the Ringer's Kate Halliwell put it in a tweet on Friday.
There was exuberant gloating, which probably had more to do with the athletic excellence unfolding on the court below than her own stunning achievement — turning a one-woman show into a television series some have described as perfect — but really, who can say?
There were dramatic, feigned waterworks and full-face cringes. There were whooping standing ovations, and hands-over-the-mouth moments of shock and awe.
There were moments of riveted intensity.
And of quiet stoicism.
Joy, sadness, surprise, suspense — truly, she felt it all. Her fellow sportsfans, meanwhile, seemed equally excited about Waller-Bridge's proximity as the actor apparently was about watching Romania's Simona Halep face off against Belarus's Victoria Azarenka. Seen below, Waller-Bridge shakes a hand I really hope belongs to Geri "Ginger Spice" Horner, who was also seated in the Royal Box today.
Horner, it bears noting, was also feeling some things:
Anyway, I'll leave you with a final thought from Twitter user @ella_kcs: "Which Phoebe Waller-Bridge at Wimbledon are you today??" Tag yourselves, I'm Phoebe-Waller-Bridge-Gasping-Audibly-at-Wonderful-and-Unexpected-Gift, which is this whole series of sporty reaction shots.